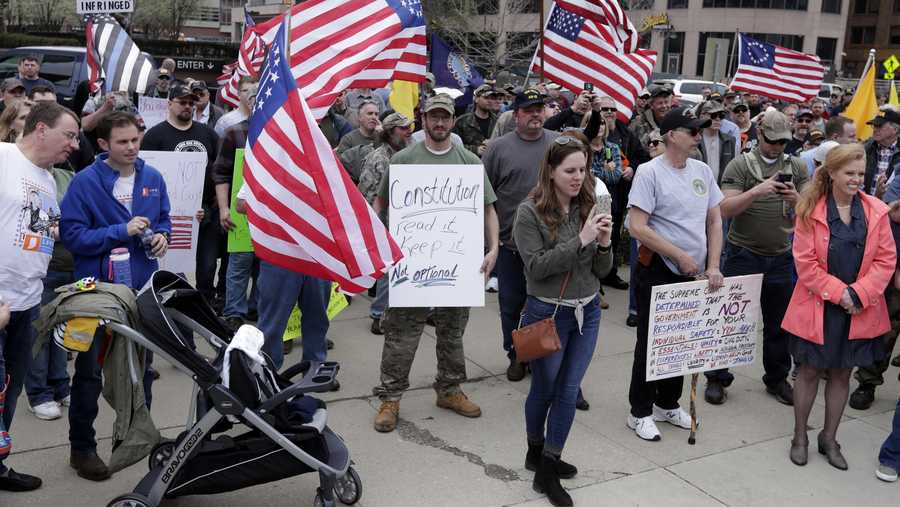 Must have been a buy one get one free sale at the flag store.
Courtesy of the
AP
:
Gun rights supporters — many carrying rifles and ammunition — gathered at state capitols across the U.S. on Saturday to push back against efforts to pass stricter gun-control laws that they fear threaten their constitutional right to bear arms.
From Delaware to Wyoming, hundreds gathered at peaceful protests to listen to speakers who warned that any restrictions on gun ownership or use eventually could lead to a ban on gun ownership, which is guaranteed under the Second Amendment.
"If you have a building and you take a brick out every so often, after a while you're not going to have a building," said Westley Williams, who carried an AR-15 rifle as he joined about 100 people braving blustery weather in Cheyenne, Wyoming, for a pro-gun-rights rally in front of the state supreme court building.
Dave Gulya, one of the organizers of a rally in Augusta, Maine, said about 800 people showed up at the statehouse — a gun-free zone — to make the point that "we are law-abiding."
Saturday's protests were planned in dozens of state capitols less than three weeks after hundreds of thousands marched in Washington, New York and elsewhere to demand tougher gun laws after the February school shooting in Parkland, Florida, that killed 17. Organizers of those protests demanded a ban on assault weapons and high-capacity magazines, and called for universal background checks on potential gun owners.
You know here's the thing.
If you want people to believe that gun owners are relatively harmless, perhaps you DON'T show up to a rally looking like this: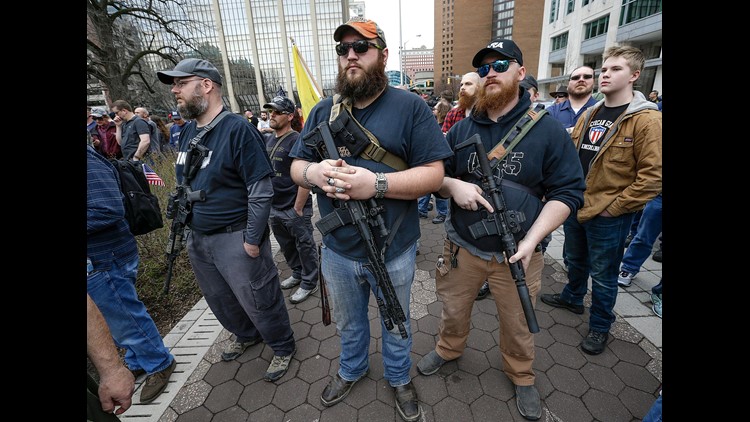 That is using your weapons in an attempt to appear intimidating, not to appear safe and protective of others.
As for these rallies, well Ammosexuals why don't you get back to us when you can actually demonstrate strength in numbers.
Boise March for Our LIves, March 24, 2018

3% Gun Rights Rally in response, April 14, 2018

Blue wave a'comin'

pic.twitter.com/SaO5RMrBDm

— Sisyphus Idaho (@Sisyphus43) April 14, 2018
Because as of right now it appears you are greatly outnumbered.