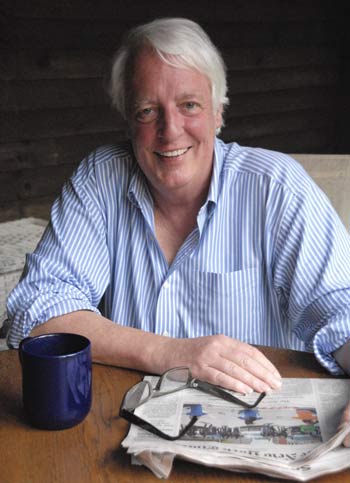 It looks like Joe responded to
Mediaite
concerning the e-mail:
My email to Jesse Griffin was an effort to secure Alaskan help in obtaining further corroboration of allegations about Sarah Palin that came to my attention during my research. My reporting continued beyond the date of the email, and only information that checked out to my satisfaction and that of my publisher was included in the book. Ultimately, I published only those allegations which I found to be credible. Other allegations that could not be sufficiently verified, including some of those referenced in my email, are not in my book.
Yes that is precisely correct.
As I mentioned
earlier
Joe had contacted me after leaving Alaska and asked me try and convince some more sources to go on the record. This is what I wrote about that exchange:
Even after Joe left Alaska he said "Jesse I need something more than what I found up there." So I tried some more, and essentially ran off people who had once claimed repeatedly to be willing to talk to "the right journalist or author." (If freaking Joe McGinniss was not "the right author" who in the hell were they waiting to interview them?)
I think I was only able to help him with one or two of his questions, but the point was that he was asking if anybody could verify these stories, NOT that he wanted to hear more rumors. (Some like the Brad Hanson affair, I knew less than he did about. Though I DID speak to the reporter that broke the story. And at least three people in Wasilla that also knew of it. Joe knows them as well.)
However the majority of Joe's book is from eyewitness sources that saw the things reported happen just as he describes them. And I certainly did not connect him with Glen Rice, who has substantiated his tryst with Sister Sarah and has no problem with how it is described in the book.
For those taken aback by Joe's style in the e-mail all I have to say is THAT is how Joe talks. There is no patience for bullshit, and he does not beat around the bush.
And do you know what? I was not offended or bothered one little bit, because I knew that the standards for writing a book (And the legal scrutiny that it is subjected to), were MUCH different for a book than they are for my blog. Which is obviously quite an understatement.
Yes the Right Wing will use this, and every thing else they can find, in a desperate attempt to discredit this book. But hey if it keeps selling than they fail don't they?
And let's face it, WHO among the viewers of Fox News, and the visitors to Breitbat's blog, were going to buy it anyhow?
The MUCH more important question in my mind is HOW did Breitbart get that e-mail?
I don't share my private e-mails with ANYBODY! At least on my end, the only two people who should have seen it are Joe and I. And really WHY would Joe send it to anybody else?
So is it possible that we now have an American case of News Corp phone hacking techniques being used by a well known contributor to Fox News? That is the question that I want to see answered!