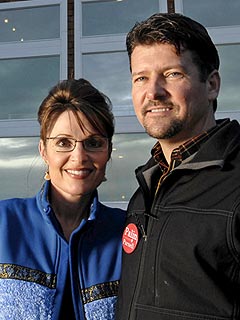 "We can do what we want. Nobody dares to rat us out!"
One of the risks you run when you post articles based on information from sources speaking only to you, and that other media outlets may not be able to confirm, is that it opens you up to charges of rumor mongering or, as Palin likes to charge, "makin' things up."
As most of you know I have been accused of that quite a few times.
However this last e-mail dump has been very helpful in FINALLY providing some validation for previous posts, that up until now were considered questionable by certain people.
In my August 2009 post "
Splitsville
," I was the first person to publicize trouble in the Palin marriage, that the Palins had screaming fights, and that Sarah was shopping around for a radio gig (Which in fact turned out to be a television gig with Fox News.), all of which have since been confirmed by various books and newspaper articles.
However some of what I talked about in that post was NEVER confirmed, and may never be confirmed, by other media outlets, like Sarah's wedding ring resting on the bottom of Lake Lucille, or the land purchase in Montana.
However there was ONE story that I had been assured was about to break in another publication, and which never did, that I have been particularly troubled by. And that is the alleged confrontation between Levi Johnston and Todd Palin.
This is how I described it in the post:
I also learned that there was an incident back in the summer of 2008, before the McCain campaign officially tapped Sarah, where Todd Palin pulled a gun on Levi in a heated exchange concerning his relationship with Bristol. This news will be hitting the local papers here in town next week. Stay tuned.
Now as you all know that story never did come out, and in fact was also left out of Levi's book.
So reasonable people may have assumed that in fact it did not take place.
But then Palin's final treasure trove of e-mails were released. And
guess what
?
On Fri, Jan 9, 2009 at 2:39 PM, Brendan Joel Kelley wrote:
hey Bill - this is an unfortunate inquiry for me to make, if you haven't gotten it from other outlets already then it's just a matter of time, but does the governor's office have anything to say about what transpired late saturday night between the first gentleman and levi johnston?
Brendan Joel Kelley
Associate Editor
Anchorage Press
On Jan 9, 2009, at 2:50 PM, b.mcallister@alaska.comwrote:
Please put a finer point on that question. Thanks
On Fri, Jan 9, 2009 at 3:28 PM, Brendan Joel Kelley wrote:
you know how this media game works Bill, it's one of my favorite things about you - it's what makes you so effective - so i can't overplay my hand here. but i've got information, good information, about an incident between the two of them - which i agree shouldn't be the business of state employees - that i can't say more about, the first gentleman having a confrontation with the father of the first grandson, let's say. it's blowing up, much like the first daughter's pregnancy prior to the official confirmation of it. and although i doubt it's a viable proposition, i'd like to think that the guv's office wants local media to have things first, unlike, say, one-on-one interviews. IMO - to use internet slang - the best thing the guv could do right now is make good with local media, not seem to be the vp candidate that won't go away, to quote chris matthews on hardball last night, this thing about the levi/bristol situation isn't our making, and i'd prefer that young people's relationships not be newsworthy, but we both know that it is. if it matters at all, i'd love a sitdown one-on-one interview with the guv, no questions about the kids asked, just policy and governance; consider that a formal request, but the stuff i'm referring to now is something that's gonna be out no matter what you say to local journos, i'm not driving this bus
From: b.mcallister@alaska.com [mailto:b.mcallister@alaska.com]
Sent: Friday, January 09, 2009 4:15 PM
To: Brendan Joel Kelley
Subject: Re: inquiry
Interesting comment from Chris Matthews, who I talked to on the phone today regarding his willingness to go to any lengths, including Alaska, to get an interview with the governor. There's a lot of hypocrisy in comments like that. Everyone wants to talk to her, no matter how much they trash her for speaking to someone else. Campbell Brown did the same thing. It would be funny if it weren't so mean-spirited.
The governor wants to have a relationship with local media, and just got done giving an interview to Channel 2.
So let me be clear: you're asking me to respond to something the details of which you're not going to share? You might consider the possibility that I really don't know what you're talking about. But just in case, what's your direct phone line, or cell phone, whichever is best to reach you?
That is where the e-mail ends concerning this particular story, but I doubt that McAllister responded further. Instead he probably contacted Palin and they performed the Alaska version of damage control.
There is only one other e-mail string that I can find between McAllister and Brendan Joel Kelley, and that was one that took place three days later
concerning John Ziegler
. (It is also interesting that Brendan talks about a phone conversation he had with Palin in between these two sets of e-mails.)
Now as I am sure that many of you already know, my source on this story was Tank Jones, who obviously got his information directly from Levi. And the journalist who was supposed to publish the story was the above mentioned Brendan Joel Kelley.
However the interview with Levi came out in the Anchorage Press on
August 6. 2009
, sans the confrontation story between Levi and Todd. I e-mailed Brendan about it and he said that at the last minute Levi had refused to go on the record. However he did confirm that he heard the same story that I had.
Now a couple of things.
In the e-mail Brendan is talking about a confrontation that JUST happened. This was back in January, and it is VERY unlikely that Brendan got this story from Levi, who was extremely suspicious and closed mouth in those days, so that means he got the story from another source.
He also claims that he is NOT the only news outlet working the story, and further states, "
but the stuff i'm referring to now is something that's gonna be out no matter what you say to local journos, i'm not driving this bus."
However, regardless of who had it besides Brendan, the story was clearly squashed.
I am also aware that in MY version of the story it took place in the summer, but according to Brendan it had just happened in January. That is a minor quibble (But I did just check my notes and I wrote it down as taking place in the summer), though it actually makes more sense that it happened around the time that Bristol unceremoniously kicked Levi to the curb which (According to Levi's book) was on January the 8th.
I am not sure exactly HOW Palin manages to bully people, as well as the press, into keeping these stories quiet (Especially these days!), but it is worth noting that to this day the ONLY place to write about this story, which remember various news agencies were pursuing, was right here on IM.
And for refusing to allow myself to be intimidated by the Palins I suffered no end of verbal abuse and attacks on my character. And as Paul Harvey used to say, "Now you know the rest of the story."