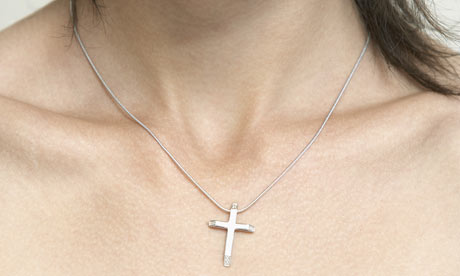 Courtesy of
The Telegraph
:
In a highly significant move, ministers will fight a case at the European Court of Human Rights in which two British women will seek to establish their right to display the cross.
It is the first time that the Government has been forced to state whether it backs the right of Christians to wear the symbol at work.
A document seen by The Sunday Telegraph discloses that ministers will argue that because it is not a "requirement" of the Christian faith, employers can ban the wearing of the cross and sack workers who insist on doing so.
The Government's position received an angry response last night from prominent figures including Lord Carey, the former Archbishop of Canterbury.
He accused ministers and the courts of "dictating" to Christians and said it was another example of Christianity becoming sidelined in official life.
Some of you may be shocked, due to my identification as an Atheist, that I am deeply troubled by ANY law which allows the firing of a person for displaying their religious faith through the wearing of ornaments or clothing.
While I may have a very different view of allowing proselytizing at work, and this COULD be categorized as a subtle form of that invasive practice, I do not see it in the same light at all.
However though this may seem a simple case of free speech or religious tolerance, it is a little more complicated.
The Strasbourg case hinges on whether human rights laws protect the right to wear a cross or crucifix at work under Article 9 of the European Convention on Human Rights.
It states: "Everyone has the right to freedom of thought, conscience and religion; this right includes freedom to change his religion or belief, and freedom, either alone or in community with others and in public or private, to manifest his religion or belief, in worship, teaching, practice and observance."
The Christian women bringing the case, Nadia Eweida and Shirley Chaplin, claim that they were discriminated against when their employers barred them from wearing the symbols.
They want the European Court to rule that this breached their human right to manifest their religion.
The Government's official response states that wearing the cross is not a "requirement of the faith" and therefore does not fall under the remit of Article 9.
Lawyers for the two women claim that the Government is setting the bar too high and that "manifesting" religion includes doing things that are not a "requirement of the faith", and that they are therefore protected by human rights.
I actually read about this case several days ago, but there was so much going on that I was unable to address it back then.
Still I think it is a rather fascinating topic and am interested in what all you have to say about it.