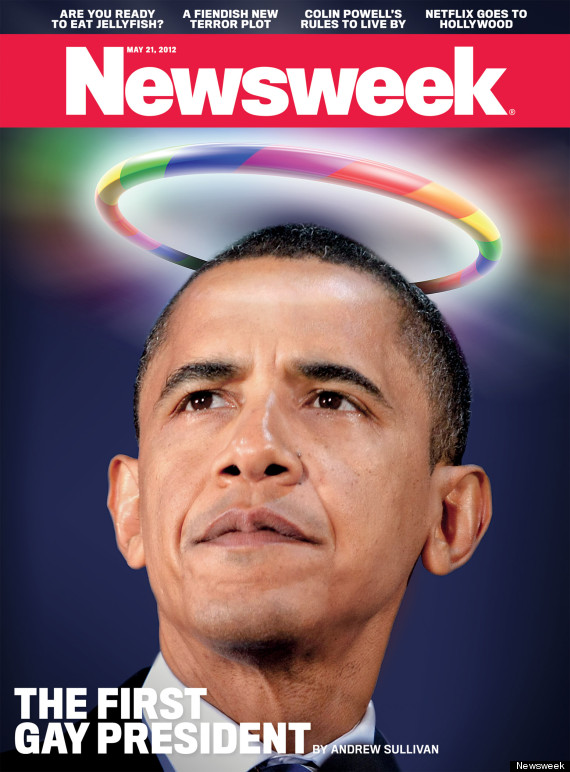 This according to the
Huffington Post
:
Newsweek is celebrating President Obama's endorsement of same-sex marriage on this week's cover, an image of which it released on Sunday.
The cover features an image of Obama looking quite angelic with a rainbow-colored halo above his head (or as a HuffPost editor affectionately dubbed it—a "gaylo"). The image accompanies the issue's cover story, written by Andrew Sullivan, titled "The First Gay President." In his cover story, Sullivan argues that Obama's announcement has been years in the making. He also writes that the President has much in common with the gay community.
"He had to discover his black identity and then reconcile it with his white family, just as gays discover their homosexual identity and then have to reconcile it with their heterosexual family," Sullivan writes.
While I can appreciate Andrew Sullivan's enthusiasm, I have to say I am put off by the declaration that Obama is the first gay president.
It is sort of reminiscent of calling President Clinton "the first black President" which resulted in a bit of awkwardness when Obama was elected, since that title had already been used.
Someday, it may not be anytime soon, but someday, there WILL be an actual "first gay President" and in my opinion this title should be reserved for that individual.
Besides it almost makes it sound, and I KNOW this is not Sullivan's intention, as if the ONLY way that Obama could truly empathize with the gay community is if he were gay himself.
The fact is that this is not so much an issue of gay rights as it is human rights. By saying that he believes that people of the same sex should be able to marry just like he and Michelle have done, he is essentially saying that he recognizes that the differences between himself and the gay community are far less important than are the similarities.
That does not require that a President share their sexuality, only that he shares their humanity.
Update: Here is Sullivan's
actual article
which is now available online.