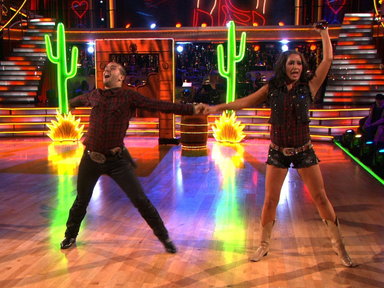 "We did it! I told you Mama promised to make sure we stayed on for at least a couple of weeks."
Early reports showing up on the
message boards
indicate that Bristol and Mark not only survived last week's "ho down" debacle, but that they were never even considered in jeopardy of getting voted off tonight.
So just what is it that Sarah Palin has in her bag of tricks that kept Todd on that horrific "Stars Earn Stripes" program until the end and is now protecting Bristol from kicked to the curb on this program?
It CAN'T simply be support from her flying monkeys because most of them have either drifted away, dies off, or are currently banging their heads against the walls of their padded cells.
In other words, what in the actual fuck?
"Remember if you ever want to see your little dog again you will do what I say."
Update:
Twitter
is going crazy in response to this decision.
Nauseating that Bristol is still in this. We need to do something people. WHAT THE HELLLL
UGH Total BS that Kelly and Val are in the bottom. How the heck is Bristol safe?
RT if you can't believe Bristol made it through tonight's elimination! I demand a recount on the vote!
Dancing with the Stars is ridiculous. A blind man can see Bristol can't dance yet she's safe and Kelly's in jeopardy
if you are voting for Bristol Palin to stay on because you think this is a partisan issue, you are an idiot.
Well if the producers of DWTS brought this no talent idiot back in order to stir up controversy, I hope they are prepared for the anger and frustration that is coming their way.