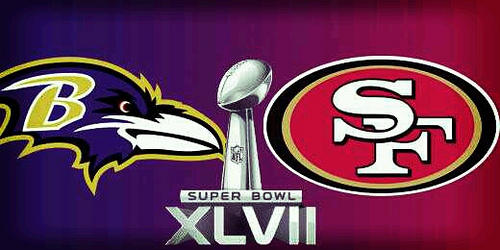 Do you know what I love about Superbowl Sunday?
It is just about the ONLY American religious holiday that I can participate in without reservation.
Oh sure I'm worried about concussions, and the long term physical effects that the game has on the athletes, but not nearly enough to let it diminish in any way the taste of my special Superbowl nacho and guacamole platter. Yum, yum!
My brother is coming over later today and we will engage in our usual Superbowl ritual of him blaming me for everything that went wrong in his life, and my telling him that he was adopted.
Then at some point we will have our usual argument about whose fault it is that our parents got divorced and we will finish up the day with him in a headlock and my telling him that being an inch and half taller is no compensation for having an ingrown penis.
Ahh, good times!
I am not going to tell any of you who to root for, but you should be aware that the Ravens are going to win. I tell you this to you with the casual confidence of somebody who just learned three days ago who was even playing this year, and who chose the Ravens simply because he learned that the
49ers
are
homophobic
. Good enough for me, go Ravens!
Okay so I don't pay attention to football all that much, sue me.
Besides we all know why MOST of you will be tuning in anyhow, don't we?
And of course it can't be the Superbowl without at least ONE controversial ad, right? Ooh, the line up looks good this year.