Palin Christmas card from 2009. You know back before Trig got fed up.
Courtesy of the
Washington Post
:
Sarah Palin has a new book coming, this time about Christmas. The former Republican vice presidential candidate and Alaska governor has a deal with HarperCollins for "A Happy Holiday IS a Merry Christmas," scheduled for November. HarperCollins announced Monday that the book will criticize the "over-commercialism" and "homogenization" of Christmas and call for a renewed emphasis on the religious importance.
"Amidst the fragility of this politically correct era, it is imperative that we stand up for our beliefs before the element of faith in a glorious and traditional holiday like Christmas is marginalized and ignored," Palin said in a statement released through her publisher. "This will be a fun, festive, thought provoking book, which will encourage all to see what is possible when we unite in defense of our faith and ignore the politically correct Scrooges who would rather take Christ out of Christmas."
Financial terms were not disclosed. Palin was again represented by Washington attorney Robert Barnett, who negotiated deals for Palin's "Going Rogue" and "America by Heart." Both books were released by HarperCollins.
According to the publisher, the book will advocate "reserving Jesus Christ in Christmas — whether in public displays, school concerts (or) pageants. Palin also "will share personal memories and traditions from her own Christmases and illustrate the reasons why the celebration of Jesus Christ's nativity is the centerpiece of her faith."
I have NO idea who would believe that Sarah Palin had anything of interest to add about the commercialization of Christmas, beyond the fact that she understands the importance of branding, and of connecting your product to a popular holiday season in order to increase sales of that item.
You know, like she is doing here.
I think that it is pretty obvious that she is clearly still working that Fundamentalist/Evangelical/Cult religion angle and apparently hoping to position herself to start working the Christian revival circuit. Possibly planning to set up some tents for the laying on of claw-like hands, a seminar on birthing a live baby from a square pillow...
Sarah Palin's stomach March 26, 2008. Do you see the baby kicking?
....and of course Bristol's "revirginification" course.
By the way is it tacky to point out that Palin is jumping on a bandwagon that her fellow conservative Christmas defenders have already damned near ridden into the ground?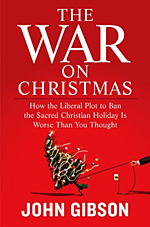 I guess no tackier than actually having written them don'tcha know?
Of course I would be remiss not to point out that originally
Saturnalia
was a pagan holiday, that the Christians stole and then made their own. So if ANYBODY should be defending the TRUE meaning of Christmas it would be the ancient Romans.
I look forward to their book on the topic. Gotta be better than the ones pictured above.