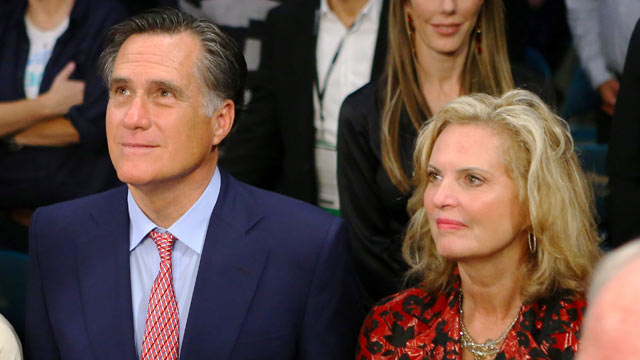 So there is a retreat going on in Utah that has attracted a bunch of politicians, advisers, and big business types which WAS being characterized as significant step in Romney's return to public relevance and proof of his political clout.
However much like his campaign there seems to be no "there there."
This from the
Washington Post
:
His ideas conference, much like his campaign, had no specific agenda and would define itself over time, aides said. The off-the-record sessions, the cigar rooms and the vanilla homogeneity of the exclusive event evoked the elitism of his disastrous speech to donors about the "47 percent."
And Romney hasn't exactly loosened up. When the former GOP nominee suddenly appeared in the lounge on the way to the kick-off festivities, he responded to a question about his ambitions for the conference by grabbing his wife's hand and scampering out the door.
He did take time to sit down with CNN and ruminate on his election loss and its possible causes.
"I wish the hurricane hadn't have happened when it did because it gave the president a chance to be presidential," Romney said in reference to Hurricane Sandy. "But, you know, you don't look back and worry about each little thing."
Romney took a more expansive tack in his keynote address Thursday, offering an explicitly nonpolitical speech, with slides exploring national challenges such as the federal deficit and economic growth, according to attendees. He then urged conference participants to discuss possible solutions in working groups. The speech was closed to the media.
Even after the speech, there was confusion about the exact purpose of the retreat.
"What are Mitt's plans?" was the major question coming out of the retreat, said former senator Bob Bennett (R-Utah). "There doesn't seem to be an answer coming out of this."
I love that he ran from reporters and bitched about an inconvenient hurricane. That's so Romney, don't you think?
So to be clear, Romney demonstrates that he is still relevant by hosting a largely irrelevant retreat?
In fact a number of things went wrong including the fact that the big get for the conference was supposed to be former supermodel Cindy Crawford who was scheduled to lead the morning yoga class. But at the last minute she pulled a shoulder muscle (Or wised up) and was replaced by Campbell Brown, the former television anchor and wife of former Romney adviser Dan Senor.
I'm sorry but I find that pretty damn funny. And also indicative of Mitt Romney in general.
Essentially if things CAN go wrong, they WILL go wrong. We are just lucky they did not go wrong while he was sitting in the White House.