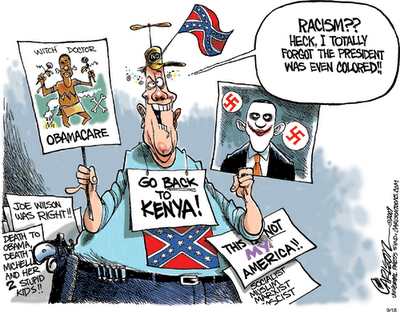 Courtesy of
Raw Story
:
"We wanted to address a question on the minds of many: Do negative racial attitudes attract whites to the tea party movement? Our data suggest that prejudice may explain why some whites become movement supporters," Eric D. Knowles of New York University, the lead author of the study, told PsyPost via email.
Knowles and his colleagues examined 316 white participants' racial attitudes, ingroup identity, and identification with tea party over a period of nine months. The researchers found identification with the tea party was associated with anti-black prejudice, libertarian ideology, social conservatism, and belief the nation was in decline.
"It's important to note that the results concerning racial prejudice are correlational: across all three time points, prejudice was associated with support for the tea party," Knowles explained. "However, because we controlled for a lot of other factors in testing this association (social conservatism, libertarianism, etc.), we can say with some confidence that we're not just getting fooled by a 'third variable' confound (in which the association between prejudice and tea party support is an artifact of both variables' correlation with some other factor)."
The racial prejudice appeared to be a symbolic rather than "old-fashioned" form of racism. Old-fashioned racism simply states that black people or other ethnic minorities are innately inferior to white people. Modern symbolic racism, on the other hand, tends to direct complaints and accusations at minority culture. Symbolic racists, for instance, claim that black people are less hard working and more dependent on government assistance than whites.
"One of the most interesting things for us was that the prejudice-tea party support association was statistically mediated by a sense of national decline — that the U.S. is drifting away from its founding values," Knowles continued. "In other words, our data suggest that being high in prejudice leads to a sense of decline, which it turn draws whites to the tea party — that is, that the impact of prejudice on tea party identification is indirect. This pattern is consistent with theories in social psychology that talk about how people 'legitimize' their biases in terms of more socially-acceptable beliefs. Thus, it's not socially okay to like the tea party because one is prejudiced. However, if the prejudice gets 'converted' into the vague sense that the country is going to hell in a hand-basket, that's a more principled reason to make political choices."
The researchers found no evidence that a strong white racial identity lead to identification with the tea party. However, they did find the opposite was true. Those who strongly identified with the tea party movement became more concerned with their racial identity over time.
I find that last part fascinating. So in other words you don't necessarily have to be racist to join the Tea Party, but once you do your racism will grow over time.
I imagine it was much the same for young members of the Klu Klux Klan.
"You know I used to only KIND of dislike the n***ers, but after burning down a few of their churches and hanging them from trees I find that I hate them more than ever!"