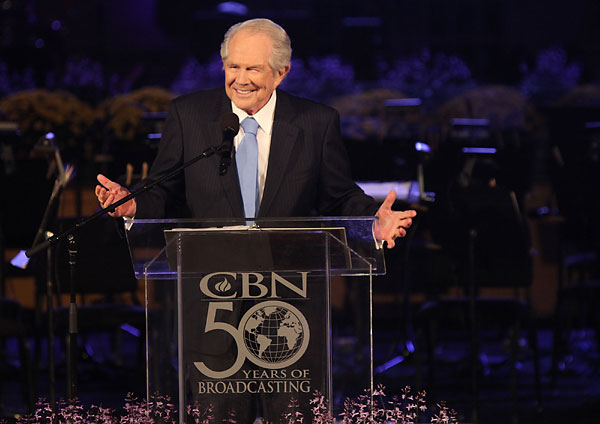 Courtesy of
The Guardian
:
Now a new documentary lays bare the extent of the misrepresentations of Operation Blessing's activities in the Democratic Republic of Congo, formerly Zaire, that it says continue to this day.
Mission Congo, by David Turner and Lara Zizic, opens at the Toronto film festival on Friday. It describes how claims about the scale of aid to Rwandan refugees were among a number of exaggerated or false assertions about the activities of Operation Blessing which pulls in hundreds of millions of dollars a year in donations, much of it through Robertson's televangelism. They include characterising a failed large-scale farming project as a huge success, and claims about providing schools and other infrastructure.
But some of the most damaging criticism of Robertson comes from former aid workers at Operation Blessing, who describe how mercy flights to save refugees were diverted hundreds of miles from the crisis to deliver equipment to a diamond mining concession run by the televangelist.
Throughout the Rwandan refugee crisis, when more than 1 million people fled into neighbouring Zaire and started dying en masse of cholera, Robertson told his viewers that Operation Blessing was at the forefront of saving lives.
"It was the most important first medical shipment on the scene out of everything," he said of one aid delivery as he appealed for donations. In another broadcast, Robertson said Operation Blessing was saving thousands of lives.
"The death toll in this particular camp went down to almost zero because of our people being there," he said.
Robertson claimed that Operation Blessing sent plane-loads of doctors.
"These are tents set up with our doctors and our medical teams that came from here to work as hard as they could to save lives," Robertson said over pictures of a large tent of children on drips being tended by nurses and doctors.
But the film was of MSF medical staff at work. Operation Blessing had just one tent and a total of seven doctors. MSF officials who worked in Goma told the documentary-makers that they had no recollection of even seeing Operation Blessing – let alone working with it.
"What's really unacceptable is that Operation Blessing took photographs of MSF workers and then used this in their fundraising," said Samantha Bolton, the former MSF spokeswoman in Goma.
I doubt that I have kept secret my utter disdain for this POS. However I urge you to visit the link at the top to get an idea of just what a truly despicable excuse for a human being that Pat Robertson is.
You know one of my major irritations about religion is the blanket of respectability that it affords charlatans and criminals, allowing them to gain trust and lure innocents into their web simply by identifying themselves and "Christians" or "Men of God."
It is like those labels numb the minds of the believers to such a degree that they are unable to access any rational thinking and will simply buy into any bullshit spewed by those whom they have been conditioned to trust.
Update: This documentary has frightened Robertson's people who are
threatening to sue the filmmakers
:
An Operation Blessing spokesman told The Virginian-Pilot that they are "considering legal action" against Lara Zizic and David Turner, whose film "Mission Congo" will hold its premier at the Toronto International Film Festival, over the film's supposed "false and defamatory" content.
CBN has a history of going after Robertson's critics; for example, they recently embarked on an unsuccessful push to cover up a video of Robertson — first posted here on Right Wing Watch —arguing that gay men wear special rings that they use to infect random people they meet with HIV/AIDS.
I think it would be incredibly beneficial for the Robertson camp to go after this film. It would bring TONS of free publicity to the documentary plus it would force Robertson and his people to defend their charity, which I think we KNOW would essentially prove the filmmakers right and also open Pat Robertson up to charges of fraud.
Personally I hope they do attempt to sue them, but my gut says they won't.