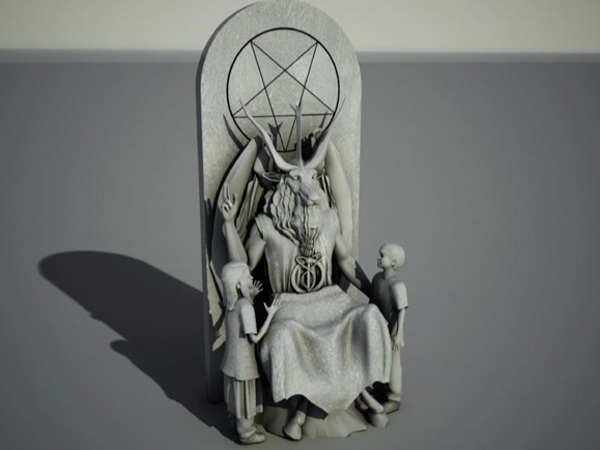 Courtesy of
Philly.com
:
Will Satan be celebrated on the lawn of the Oklahoma State Capitol?
A devilish group based in New York believes it should be perfectly OK.
The group, which calls itself "The Satanic Temple," today unveiled its proposal for a monument it intends to erect next to another religious statue: a depiction of the Ten Commandments.
According to The Satanic Temple's application, the proposed monument features a large pentagram and "a 7-foot tall goat-headed Baphomet that sits cross-legged flanked by a child on both sides. The lap will serve as a seat for visitors."
It would also include quotes from poets William Blake and Lord Byron.
The monument, said the group's spokesman, was designed to reflect the views of Satanists in Oklahoma City and could doubly serve as a tourist attraction.
"The statue will serve as a beacon calling for compassion and empathy among all living creatures," said spokesman Lucian Greaves. "The statue will also have a functional purpose as a chair where people of all ages may sit on the lap of Satan for inspiration and contemplation."
Oklahoma state legislators in 2009 approved the installation of a privately-funded Ten Commandments monument. It was installed last year over the protests of the local chapter of the American Civil Liberties Union. The Satanic Temple wasn't the only group to apply for a monument; People for the Ethical Treatment of Animals, the satirical Church of the Flying Spaghetti Monster and a Hindu group have also requested a place near the Capitol steps.
It will be interesting to see how Oklahoma lawmakers respond to this attempt to take advantage of the door opened by State Rep. Mike Ritze back in 2009.
Will they cry uncle and take down this Judeo-Christian monument?
Will they try to implement religious favoritism concerning monuments at the capitol?
Or will they allow a giant goat headed Satanic statue to share space with numerous other religious monuments, turning the Capitol into a kid of one stop shop for religious diversity?
Should be interesting to watch this whole thing play out.
P.S. By the way there is
some evidence to suggest
that this whole "Satanic Temple" is really a tongue in check group of satirists. Still if Oklahoma is going to allow one former cult that people orginally ridiculed to place a monument at their capitol, kind of hard to draw the line at any other.
Don'tcha think?