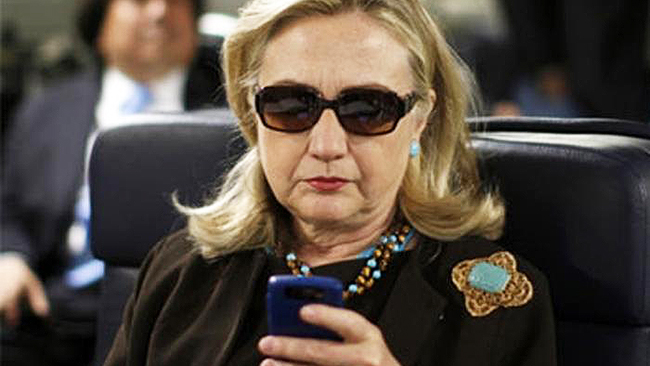 Trying to trick my campaign? I don't think this punk knows who he's dealing with.
Courtesy of
Time
:
Hillary Clinton's campaign offices around the country have been put on alert after at least two women approached Iowa staff under the guise of being supporters in an apparent effort to catch the campaign engaging in improper or illegal activity, a Clinton campaign official said.
The motivations of the women is not known, but their alleged techniques match those of Project Veritas, the conservative group run by James O'Keefe, which specializes in undercover stings meant to embarrass liberal groups and politicians. The group declined to comment on the Clinton campaign's allegations. "Project Veritas does not comment on investigations, real or imagined," said Daniel Pollack, the director of communications for the group.
A Clinton campaign official alleges that the women engaged in several efforts to entrap supporters. In one scheme, described by Clinton staff, a woman attempted to pass a cash donation to Clinton volunteers and interns. In another, a woman approached the campaign on Aug. 19 and said both her parents had donated to Clinton the legal maximum of $2700 each and wanted to funnel an additional donation through their daughter, a violation of federal law. On Aug. 13, a woman claiming to be Canadian approached another Clinton fellow to ask how to falsify an address for a campaign donation.
In another instance, a woman volunteering with the Clinton campaign on voter registration efforts in Iowa City returned to the campaign's office in Des Moines and asked whether it was okay that she refuse to register people who don't support Clinton, the campaign official said. The Clinton campaign maintains that its policy is to register all voters, regardless of their preference in candidates.
Sounds like this went as well as the time O'Keefe tried to get that CNN reporter
onto his "sex boat."
Of course considering how well those fake Planned Parenthood videos are working, I imagine that there are all sorts of conservative operatives out there trying to get their fifteen minutes of infamy.
And what better target for a conservative hack trying to make a name for themselves than Hillary Clinton?