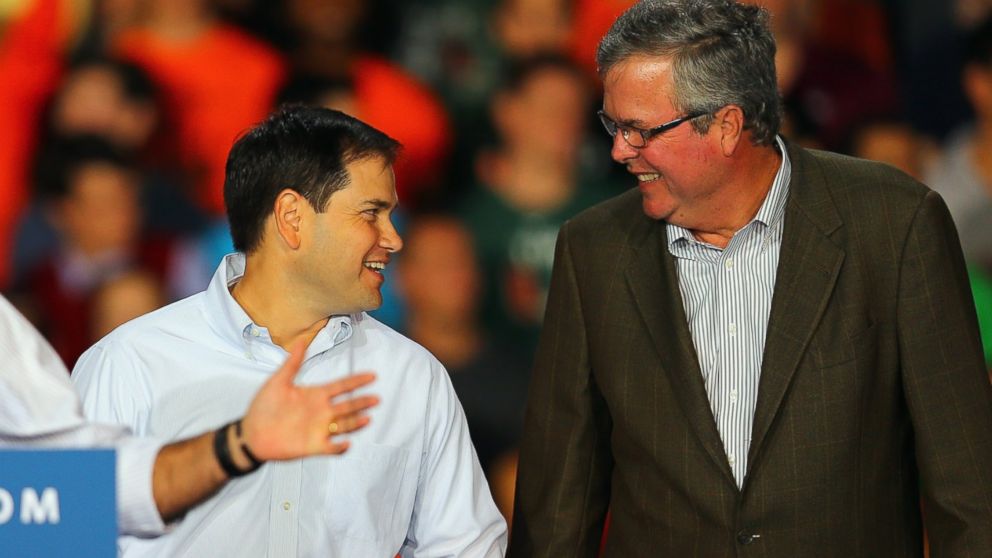 "They hate you? Yeah they hate me too."
Courtesy of
PPP poll
:
A new survey in Florida shows 47 percent of voters want Jeb Bush to drop out of the GOP presidential race, and 48 percent would prefer Marco Rubio do the same.
Those numbers come tucked inside a new survey conducted by Public Policy Polling, which shows that Donald Trump continues to lead all Republican candidates in Florida with 28 percent support. In second place is Dr. Ben Carson with 17 percent.
Bush and Rubio fall into line next in Florida. Bush is in third place with 13 percent support, while Rubio gets 10 percent and is in fourth place. Ted Cruz is next at 9 percent, Carly Fiorina at 7 percent, and John Kasich is at 5 percent.
"Jeb Bush and Marco Rubio are polling well behind Donald Trump and Ben Carson with Republicans even in their home state," said Dean Debnam, President of Public Policy Polling. "And when you look at the overall Florida electorate, a plurality of voters think Bush and Rubio should just end their campaigns."
Only 40 percent of voters in the state think Bush should keep running, compared to 47 percent who think he should drop out. Just 42 percent believe Rubio should continue on with his campaign to 48 percent who believe he should end it.
Of course this poll was taken before last night's debate, but I seriously doubt that anything Rubio or Bush said last night moved the needle even an inch.
Actually I think that Trump is leading all of the candidates in their individual states, which is really quite mind-boggling if you think about it.