Students participate in drills as a precaution against a school shooter.
Courtesy of
Think Progress
:
"I know it sounds politically crass," said Mason Wooldridge, the co-founder of Our Kids Deserve It, a group that works to promote what many might consider aggressive school safety standards. "But if Sandy Hook Elementary or the college in Oregon had what Indiana is promoting in their schools, nobody would have died."
The safety standards Wooldridge is working to implement in Indiana schools are no ordinary measures.
They've already been implemented at Southwestern High School, a small school in rural Shelbyville. There, not only do children perform "active shooter drills" alongside fire drills, teachers wear special key fobs that alert police faster than a 911 call. Classrooms have "hardened doors" that lock automatically and "hardened exterior glass" windows to deflect both bullets and brute force. Cameras in the school have "shooter detection technology" — tools created for the military — to help law enforcement more quickly locate suspects. And if the suspect is trapped in the hallway, smoke cannisters can be detonated to slow down the shooter.
Wooldridge thinks these measures could have prevented the deadly outcomes of shootings like Sandy Hook and last week's incident at Umpqua Community College in Oregon.
"The reason he was able to carry out the killing was because he was able to walk up to the door and walk right in," he said, referring to Sandy Hook. "With this system, a sensor on the glass would have said someone is trying to break in, and that would have gone to the administrative area and the local police department. So he would have been by himself, stuck in a hallway. In Oregon, the same thing would have taken place."
In addition, Wooldridge says the doors at Southwestern High School lock automatically — a concern for fires, but a safety measure so teachers don't have to remember to lock the door behind them. Wooldridge said this would prevent situations like the one during Sandy Hook, when a teacher told a 911 dispatcher that she had to go outside to lock her door while the shooter was active in the hallway.
These measures are incredibly expensive, costing as much as $400,000 to $600,000 for a thirty five classroom school. The upgrade for Southwestern High were paid for with a donation from a security company and a government grant.
So is this really going to be the new normal in American schools?
Do we actually have to install the kind of security cameras, hardened doors, and bullet proof glass that are usually found in federal prisons to keep our kids safe?
How can this be what we have come to?
We are now locking our children inside bulletproof cages becasue we are too fucking stupid to restrict access to the weapons which make that necessary?
Do we remember this from the
Declaration of Independence
?
"We hold these truths to be self-evident, that all men are created equal, that they are endowed by their Creator with certain unalienable Rights, that among these are Life, Liberty and the pursuit of Happiness."
Well how happy do we think our children are to be terrified on a monthly basis with active shooter drills. How much liberty do they feel locked in a school that could just as easily house the most dangerous felons in the country? And how is their right to life preserved by living in a nation where guns take the lives of hundreds of their peers every single year?
The 2nd Amendment may have been written to protect us, but the way it is interpreted today it is placing all of us in the gravest of danger.
And it is poisoning the very essence of what it means to be an American.
Update: A few of you suggested that I include this photo of kids from the 1950's participating in "Duck and Cover" drills in anticipation of nuclear attack.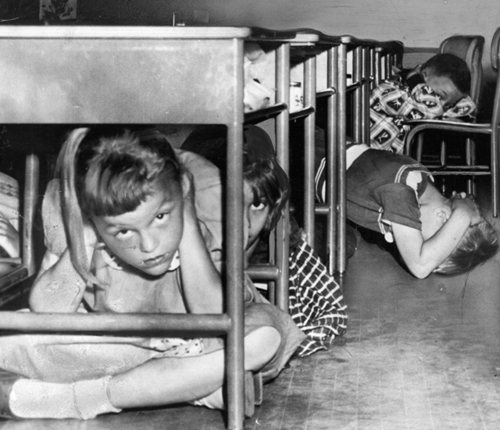 It looks like we have been terrifying our school children for generations.
But these days we are not "protecting" them from attacks from foreign governments, today we are trying to keep them safe from attacks by their fellow Americans.