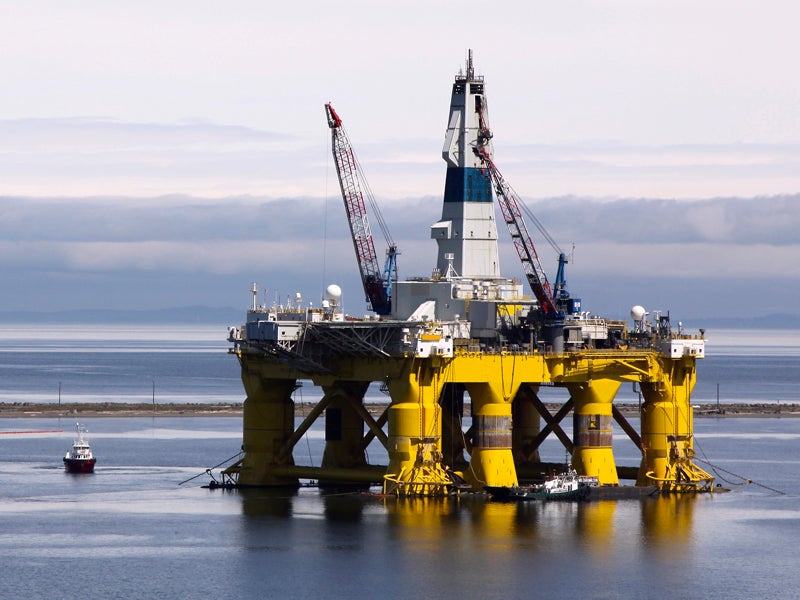 Courtesy of
The Hill
:
The Obama administration took a number of actions Friday to restrict future offshore drilling in the Arctic Ocean.
The Interior Department is canceling two lease sales it had planned over the next year and a half for Arctic drilling rights and denying two oil companies' requests to extend the time on leases that they currently hold.
The decision comes weeks after Royal Dutch Shell pulled out of the Arctic for the foreseeable future, saying the little oil it found in this summer's drilling is not worth the cost.
The administration said its decisions are based on the current oil markets and low interest in Arctic drilling.
But it's also a significant action to crack down on one of the most controversial types of offshore oil and gas drilling that has environmentalists fired up in opposition.
"In light of Shell's announcement, the amount of acreage already under lease and current market conditions, it does not make sense to prepare for lease sales in the Arctic in the next year and a half," Interior Secretary Sally Jewell said in a statement, complimenting her staff's work overseeing the safety and environmental standards of Shell's drilling in the Chukchi Sea, about 70 miles northwest of Alaska's coast.
Shell's Chukchi lease is due to expire in 2020. Norway's Statoil had also requested an extension of a lease expiring in 2017 in the nearby Beaufort Sea, which was also rejected.
Well I guess that takes care of that. At least for the duration of the Obama administration.
And Hillary Clinton has
already tweeted
that she is opposed to drilling in the Arctic, which means unless there is a Republican in the White House in the near future the Arctic is safe from the environmental impact caused by oil spills.
Well
at least from American oil companies that is
.
Okay is it possible that we all got played by President Obama?
I mean I got pretty pissed off at the President over the fact that he allowed Shell oil to drill in the Arctic Ocean in the first place, only to see them
fail miserably
.
And now with this decision it seems he is using that failure to justify restricting ALL drilling in the Arctic. You know, just as if he planned it all along.
Why do I get the feeling that in about twenty years people are going to start learning what was really going on behind the scenes of this presidency and that their minds will be blown when they do?