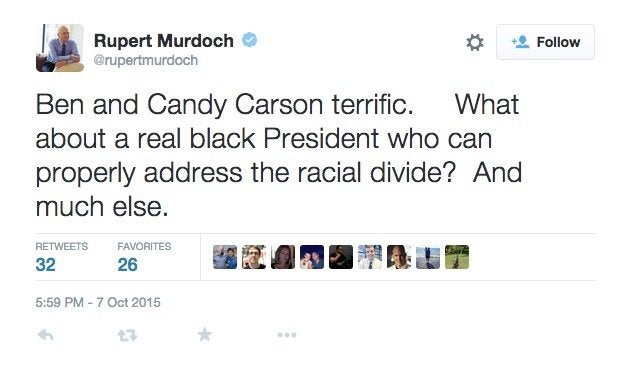 Courtesy of
HuffPo
:
News Corporation CEO Rupert Murdoch might want to be a little more careful with his Twitter finger.
The media tycoon wrote that Republican presidential candidate Ben Carson is "terrific" and asked: "What about a real black president who can properly address the racial divide?"
In a later tweet, Murdoch referred to a New York Magazine article about the disappointment the "minority community" has with President Barack Obama.
Yes I am sure that the black community is looking for a President Ben Carson to bring folks together.
You know the same guy who thinks prisons turn you gay, global warming is a myth, and that people who accept the teachings of Evolution lack morality.
Not only does Carson talk like a white dude, he talks like white dude fighting to remain conscious.
Later Murdoch made a half hearted attempt to walk it back.
Apologies! No offence meant. Personally find both men charming.

— Rupert Murdoch (@rupertmurdoch) October 8, 2015
Charming yes, but are they both REALLY black?
The truly humorous part is that Rupert Murdoch, whose cable news channel has been fanning the flames of racism for eight years now, would be the one to offer this gaffe.