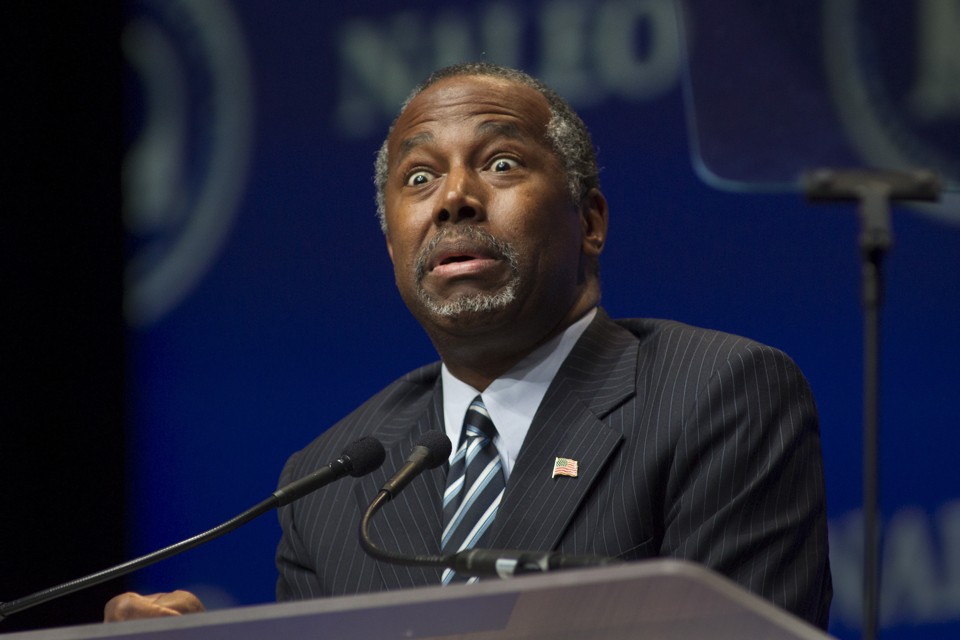 Courtesy of
Politico
:
Last week's terror attacks in Paris — combined with a number of missteps on international issues — imperil Carson's status as a leading candidate, according to the insiders, who said the retired pediatric neurosurgeon has failed to articulate coherent foreign policy or shown command of the issues. A resounding 71 percent of Republicans said Carson was the most vulnerable among the 14 GOP hopefuls on foreign policy — far more than any other candidate.
"He clearly has no idea what he's talking about," said one South Carolina Republican.
"Ben Carson's complete ineptitude makes you long for the days of 'Uz-beki-beki-stan-stan,'" added an Iowa Republican, referring to a disastrous Herman Cain interview four years ago.
Foreign affairs were never Carson's strength but the issue took on new resonance after the terror attacks in Paris last week. Since then, Carson has faltered in interviews, and a New York Times story earlier this week quoted an 83-year-old Carson adviser who described the candidate as needing intense coaching "to make him smart."
"Carson is so clueless," said an Iowa GOP insider. "He thinks the Kurds are a special kind of Wisconsin cheese."
Well it looks like finally the Republicans are coming to their senses. Well somewhat, after all they're still supporting Trump, Cruz, and Rubio.
But this guy......hell I don't even know where to begin to explain the popularity of this guy.
I just NEVER got it. And I mean NEVER.
So it looks as if the lasting impression left from Carson's ill conceived, and ill fated candidacy is that never again can somebody say "Well he's no brain surgeon" to indicate the level of a person's intellect.