— Frank Torres (@franktorresnet) November 20, 2015
Courtesy of the
Orlando Political Observer:
Former Vice-Presidential nominee and Governor of Alaska Sarah Palin was in Orlando on Friday night, the latest stop in her book signing tour to promote her latest work "Sweet Freedom".
The stop was not heavily promoted and drew about 100 supporters. Palin did not speak beforehand and did not hold any media availability. She first rose to national popularity as John McCain's running-mate in 2008, and became a fixture in popular culture. She's written two previous best sellers and remains a favorite among conservatives nationwide.
Was not heavily promoted?
Seems like
they tried
:
Special Instructions
Wristbands (750 limit) will be distributed at 9:00AM on a first come, first served basis on the day of the event and will be required for entry into the signing line. An additional 250 wristbands will be distributed after, for backup if time allows.
Well it looks like they certainly expected a large turnout.
Gee if only they would have visited IM we could have told them that Sarah Palin's days of fake selling large volumes of books with the help of conservative organization bulk sales are over.
Just like she is.
In the "I told you so" category, guess who gushed over Adele's joke about jump starting her singing career.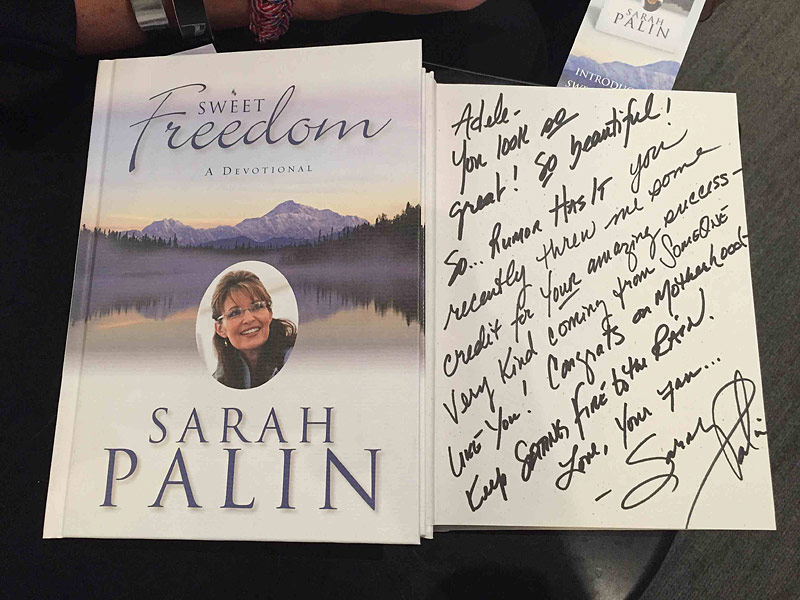 Courtesy of
People
:
After the singer credited her success in the U.S. to the former Alaska governor during an upcoming BBC One special, Palin returned the favor by sending Adele a signed copy of her new book, Sweet Freedom.
But it's what's on the inside that counts. On the first page of her book, Palin wrote Adele a gushing thank-you note that's packed with song title puns. It reads:
"Adele, You look so great! So beautiful! So … Rumor Has It you recently threw me some credit for your amazing success – very kind coming from Someone Like You! Congrats on motherhood. Keep Setting Fire to the Rain.
Love, your fan … Sarah Palin"
And by way of thanking the mega star she sends her one of her crappy books?
That will teach Adele to mention her name, even jokingly, during an interview.