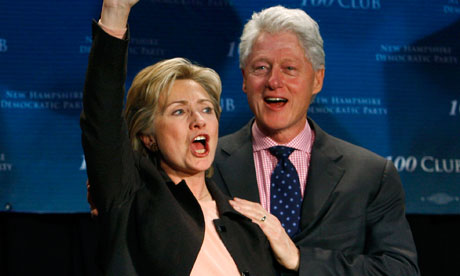 Courtesy of the
Daily Mail
:
The Democratic frontrunner made the remarks to late-night talk show host Jimmy Kimmel, who had asked her what the ex-president should be called if he became the official White House spouse.
Breaking into a smile, she replied: 'The First Dude, First Mate, First Gentleman... I'm just not sure.'
'We have to really work on what to call him,' she quipped.
Now it is perfectly reasonable to assume that Hillary was not even thinking about Palin when she made her "First Dude" remark. After all who gives much thought to her these days?
However she should have realized that Palin, who scours the internet for any mention of her name like Chris Christie licking the bottom of a Dunkin Donut bag in the hopes of grabbing the last evasive crumb, would jump at the chance to get her name in the papers along with hers.
And of course she did just that. On
Facebook
of course:
Dear Funny, Original Hillary Speechwriters: hate to tell ya, but the title "First Dude" has been taken for sometime now. I'm sure there are other names that Americans can suggest, though.
- Sarah
First off it should be mentioned that this was an off the cuff answer on a late night comedy show, so I assume that Palin's jab about "speechwriters" is an insinuation that Hillary cannot speak on her own without somebody putting words into her mouth.
Which by the way was the same smear she used against President Obama and it was bullshit then as well.
Secondly Hillary also provided at least two other choices besides "First Dude" so I kind of doubt that will be her final choice. I'm sure that she does not want to invite comparisons between her incredibly accomplished spouse and that loser in Wasilla.
And of course third, just shut the fuck up. Seriously, you're making a fool out of yourself essentially every time you speak, or a ghostwriter speaks on your behalf.
BTW coincidentally I had a phone call just the other day asking me if anybody has seen Todd around recently. And my response was "nope."
In fact there has not been a Todd sighting in quite some time.
Make of that what you will.