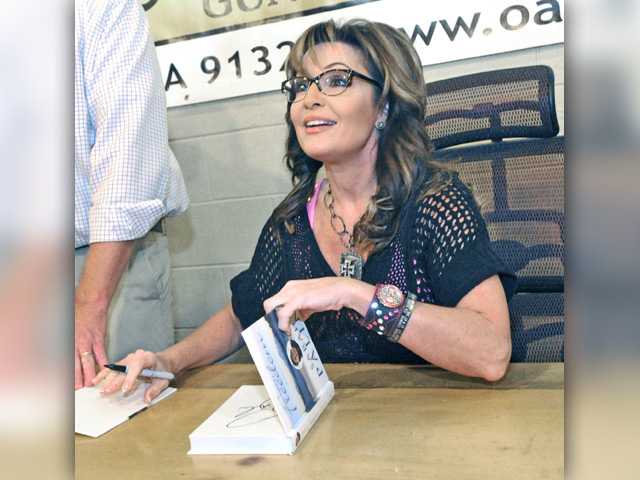 So according to the
Santa Clarita Valley Signal
Palin had a VERY successful book signing:
More than 1,000 people spent their Saturday afternoon in line for a chance to meet former Alaska Gov. Sarah Palin at a book signing at Oaktree Gun Club in Newhall.
Wow! Really, more than a thousand people?
Well according to the Signal, yes. In fact:
In fact, shortly before 1 p.m., all of Palin's books were sold out even though there were still more than 200 people in line.
Well, that IS impressive. Especially considering the fact that recent signing had suffered from low turnout and she had in fact
cancelled at least two of them
.
But then the article gets a little confusing for me.
For instance it says this:
The one-time Republican vice presidential nominee talked, mingled and took photos with hundreds of her fans for several hours while she sold and signed copies of her bestselling devotional "Sweet Freedom: A Devotional."
However since this book signing did not start until 11:00 AM, and ended before 1:00 PM, how could she have mingled with for "several" hours?
And speaking of mingling, if she really saw somewhere around 800 people in less than 120 minutes that means she would have had less than 20 seconds per "mingle."
I'm not the best with math, but really?
Now local station
KHTS
provides a more reasonable picture of the event:
Hundreds of Santa Clarita residents lined up outside the gun club Saturday to have the chance to meet the former Governor, get their copy of the book signed and take a picture with Palin.
The crowd was brought in one at a time through a side room of the main building where they could purchase a book if they did not own one, before meeting Palin.
Now the article does not say how many hundreds, but clearly they did not count numbers in excess of a thousand.
Courtesy of Sarah Palin's Facebook page.
KHTS also gives provides us a little insight into the type of person who would actually line up to get a book signed by Sarah Palin:
"We're here to support (Sarah Palin) with her new book she's coming out with," Friedman said, "because we support her and her stance with the Second Amendment Foundation. I'm a woman. I'm a lifetime member of the NRA."
Clearly an Ammosexual.
"We would love to have her join in this presidential race as well," Friedman said. "She is a biblical based, faith loving woman. She also has a very strong connection with her family and her community. She also advocates for children and families of children with special needs."
And a moron.
I think that is fairly descriptive of the type of person Palin attracts.
So the question to be asked here is has Sarah Palin's newest ghostwritten book suddenly had a resurgence of interest? (It's currently back up to 1,353 over
on Amazon
.) Or is there a little behind the scenes manipulation designed to give that impression?