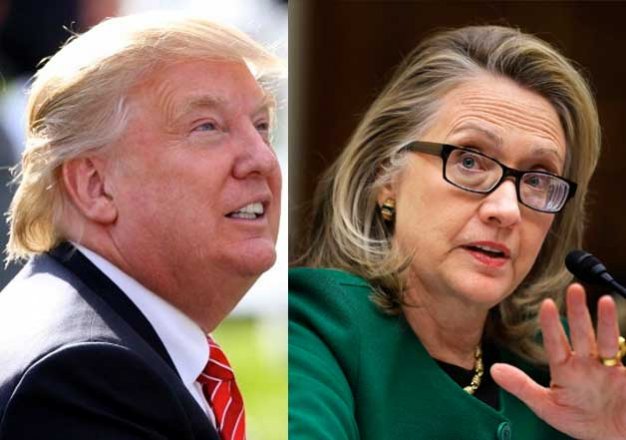 Courtesy of the
New York Post
:
Donald Trump escalated his attacks on Hillary Clinton Sunday — by bashing her for her husband's infidelity.
"I think he is fair game," Trump told Fox and Friends of Bill Clinton, "because his presidency was really considered to be very troubled to put it mildly because of all of the things she's talking to me about. She's mentioning sexism."
Over the Christmas season, Trump went on a Twitter bender warning Clinton to "be careful" when she accuses him of sexism. He implied Sunday that warning meant he's ready to unload on Bill for his sexual exploits.
"He'll come under attack, not just from me," Trump predicted. "He'll come under attack from many other people."
"I think that Bill Clinton turned out to be a liability against [Barack] Obama when they ran against each other [in 2008]," Trump added. Bill Clinton is set to hit the campaign trail in the New Year after largely staying in the wings since his wife's second presidential launch.
The only time that Bill was a liability for Hillary in 2008 was when he compared his campaign to Jesse Jackson's, but that was really only a minor distraction.
Hillary Clinton has announced that she is letting her husband out to campaign but HE'S DEMONSTRATED A PENCHANT FOR SEXISM, so inappropriate!

— Donald J. Trump (@realDonaldTrump) December 27, 2015
Nothing about Bill's sexual peccadilloes caused her or her 2008 campaign any real distress and I highly doubt eight years later that they will have any more potency.
Opening up this particular can of worms really only allows the press to dig further into Trump's own multiple marriages, and
accusations of sexual assault
. And knowing Mr. Thin Skin that will only anger him into responding with insults and accusations against the press, Hillary, and I'm guessing even Bill himself.
If this is the attack that Trump and the Republicans are hoping will help them to derail Hillary's momentum than they do not understand Hillary Clinton and they do not understand the women voters of this country.
I will do far more for women than Hillary, and I will keep our country safe, something which she will not be able to do-no strength/stamina!

— Donald J. Trump (@realDonaldTrump) December 27, 2015
And tweets like this are not exactly helping either.