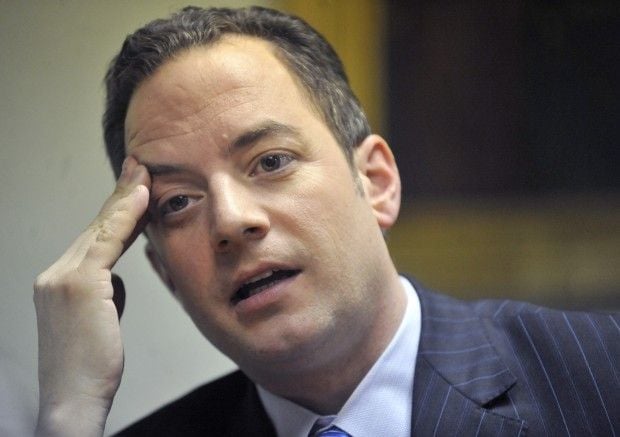 Courtesy of
The Hill
:
Republican National Committee (RNC) Chairman Reince Priebus conceded it will be "tough" for his party to keep its majority in the Senate in the 2016 elections, but voiced confidence the GOP will maintain control of both chambers of Congress.
"The Senate is important. It's very critical and it's always tough to hold the Senate, but I think we're doing everything we can do to that," Priebus told host John Catsimatidis in an interview airing Sunday on "The Cats Roundtable" on New York's AM-970.
Democrats are hopeful they can take back control of the Senate, which they lost to Republicans in the 2014 midterm elections.
The electoral map is tilting in the Democrats' favor. Republicans must defend 24 Senate seats, including more than a half-dozen in toss-up or Democratic-leaning states. Democrats are only defending 10 seats.
The demographic makeup of the electorate in presidential years is more favorable to Democrats than it is to the GOP, something Priebus seemed to acknowledge.
I think that "Rinse Twice and Priebus" SHOULD be concerned about the Senate, because it is VERY likely that the Democrats will take back control.
I am less confident about
the House
, though there ARE thirty three Republicans retiring in 2016 compared to only fourteen Democrats.
But even if the Dems only get the Senate back that means a Democratic President will have a far easier time, at least at the beginning of their term, than President Obama currently enjoys today.
And that is good for the country.
However I think that might be short lived.
This next part is pure speculation on my part but I feel pretty strongly about it.
I think that IF we take the Senate that it could only last until the next election cycle in 2018, unless there is a very significant shift in the demographic between now and then.
What's also quite possible, and in my opinion probable, is that Hillary only gets to serve one term and is ousted in 2020.
There are a couple of reasons I think this is likely,
The first is that there will be incredible blowback against her from the Republicans starting even before she takes the oath of office, just like with President Obama.
The second is that by 2020 Democrats will have held the presidency for twelve years and no party has lasted longer than that since Democrats Franklin D. Roosevelt and Harry Truman held the office for twenty years combined.
I think the Democrat's only hope of hanging onto significant power moving forward is if the GOP keeps devouring itself from within, and continues to allow clowns like Donald Trump to hold center stage.
But to be honest I am not entirely sure that is good for the country.