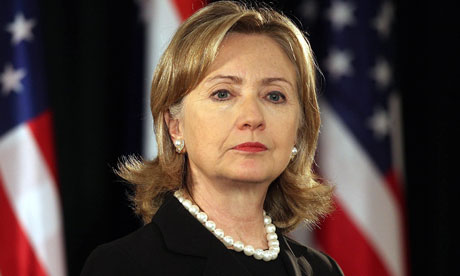 Courtesy of
HuffPo
:
In an op-ed for The Boston Globe published Friday, the former secretary of state and Democratic presidential hopeful explained how the 2016 election marks a "make-or-break moment" for the balance of power on the high court -- and what could happen if a Republican is elected president.
"The stakes are clear," Clinton wrote of the slate of cases now pending before the court. "In a single term, conservative justices could undermine virtually every pillar of the progressive movement."
It appears that Clinton did her homework, as she delves into the particulars of some of the biggest cases the court has heard in recent months, as well as those it's about to hear -- including cases on affirmative action, immigration, voting rights and the livelihood of public unions.
"Those who care about the fairness of elections, the future of unions, racial disparities in universities, the rights of women, or the future of our planet, should care about who appoints the next justices," Clinton wrote.
We have mentioned this a number of times here on IM as well, and if I were advising Hillary I would make sure to bring it up at virtually every news conference and interview.
At least four, possibly five, of the Supreme Court justices WILL be replaced before the end of the next presidency assuming that they hold office for two terms.
That means that the President will set the ideology of the court for many years to come.
Yes I know that the Supreme Court is supposed to only consider the rule of law and leave their ideology at the courthouse door, but we also know that is bullshit.
So yes electing a Democrat is vitally important to protecting the freedoms that we already have and to ensure that new court decisions move us toward a more progressive nation.
And I would argue that Hillary Clinton, by virtue of her experience and the political talent that she has at her disposal, is better suited to make that a reality.
Here is
Clinton's op-ed
for those who are interested.