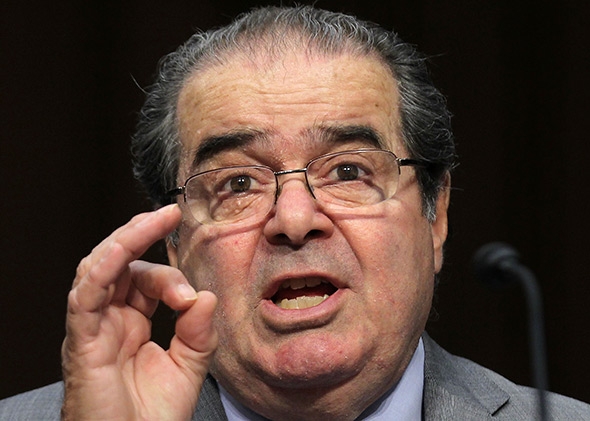 Courtesy of
NOLA
:
Government support for religion is not only justified by the Constitution, it was the norm for hundreds of years and it helped the United States become a free and prosperous nation, Supreme Court Justice Antonin Scalia said Saturday in Metairie.
Speaking before a small crowd at Archbishop Rummel High School, Scalia delivered a short but provocative speech on religious freedom that saw the conservative Catholic take aim at those who confuse freedom of religion for freedom from it.
The Constitution's First Amendment protects the free practice of religion and forbids the government from playing favorites among the various sects, Scalia said, but that doesn't mean the government can't favor religion over nonreligion.
Scalia goes on to suggest that when Thomas Jefferson first invoked the idea of the "wall of separation between church and state," that he did not intend for it to be taken literally since he also mentioned God in the Declaration of Independence, and penned Virginia's religious freedom law.
However it is within that
Virginia religious freedom law
that Jefferson wrote the following:
That our civil rights have no dependence on our religious opinions any more than our opinions in physics or geometry.
That therefore the proscribing any citizen as unworthy the public confidence, by laying upon him an incapacity of being called to offices of trust and emolument, unless he profess or renounce this or that religious opinion, is depriving him injuriously of those privileges and advantages, to which, in common with his fellow citizens, he has a natural right.
You know to me that sounds very much like a man who absolutely does not want special privilege provided to those who profess a faith in any god or adherence to any particular religion.
And that is even before taking into account the
Jefferson Bible
, where he methodically removed all mentions of miracles and left only the words ascribed to Jesus that he felt reflected his moral teachings.
No Scalia is wrong, dead wrong.
But even if he is right about the "common practice" of Christianity during the time when the country was formed, that time is long past and if we as a nation to not progress past the superstitions and ignorance of our forefathers we will find ourselves left in the dust by the rest of the world.
In fact in many ways, we already have.