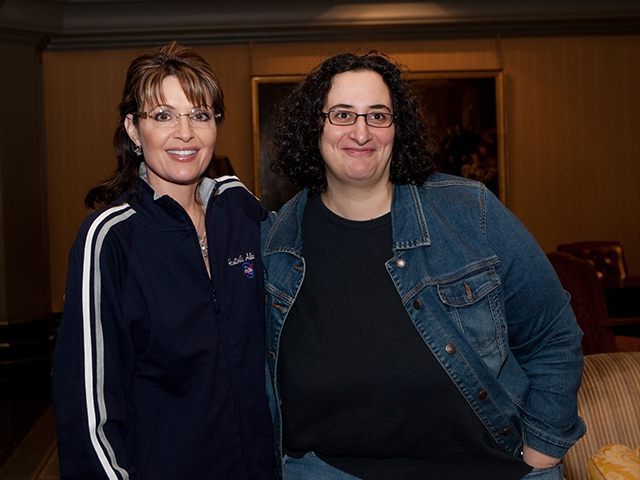 Courtesy of
Breitbart
(Of course.):
The Breitbart News Network (@BreitbartNews) announced today the addition of Rebecca Mansour, former speechwriter and close aide to Governor Sarah Palin, as their Senior West Coast Editor.
"Rebecca has all the qualities we search for at Breitbart: integrity, intelligence, and fighting spirit. Her indefatigable nature ensures she will be an impact player. Through her work for Governor Palin, she has been in the trenches fighting the political and cultural battles that inspired the rise of the Tea Party and still dominate our national discourse," said Breitbart News Executive Chairman Stephen K. Bannon.
Bannon you may remember was the director of that Palin mythological "documentary"
The Undefeated
. Which in light of recent events seems eve more ironic today.
So seeing Mansour invited to be part of a team now headed by a dedicated Palin worshiper is not exactly surprising.
Of course Bannon was able to get a quote directly from the Grizzled Mama herself about this rather predictable turn of events:
"Rebecca has been a sharp, loyal, and amazing member of my team for over six years now. Though I'm sorry to see her go full-time to another conservative outlet, I'm delighted she'll be helping change the world for the better by lending her talents to Breitbart. They are so stinking fortunate to get her! Rare is an outfit like Breitbart – they're most valuable in our culture and the media, fighting the good fight for the sake of this country we love. And I'll still be bugging Rebecca at all hours – I won't let her get away that far; every time we encounter an issue that we know the public must be aware of, we've been on it, and will continue to do so. She's the best."
Well that's a whole lot of BS this early in the morning.
By the way some of you may remember why this "sharp, loyal, and amazing" member of Palin's team has been forced to maintain a low profile these last four years.
It's because back in 2011 she dared to privately criticize the family disappointment, and
that became public
. (No not Track. No not Willow. The other
family disappointment
.)
Well I think we can now expect a lot more articles coming from Palin to show up over at Breitbart.
Gee I wonder who will write them for her?
And of course the next question to ask is why does Mansour now need an outside gig? I think the next SarahPAC filings will help to explain that.
(P.S. Personally I am anxiously awaiting the first mouth breather to post a comment asking why our GinaM. is suddenly so cozy with Sarah Palin. Gonna be some mighty confused trolls all up in here today.)