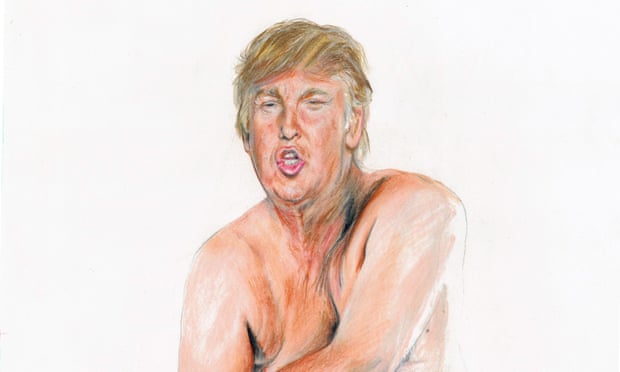 Courtesy of
The Guardian
:
An infamous nude of Donald Trump has attracted bids of over £100,000 after it went on display at the Maddox Gallery in Mayfair, London, last week, but the artist is being anonymously threatened with legal action if she sells it, due to its resemblance to the Republican presidential hopeful.
The piece by Illma Gore, titled Make America Great Again, depicts Trump with a small penis and went viral in February after the artist published it on her Facebook page. It has since been censored on social media sites and delisted from eBay after the anonymous filing of a Digital Millennium Copyright Act notice threatening to sue Gore.
Gee for the life of me I cannot imagine who would be so threatened by this painting that they would threaten legal action to make sure it stays hidden away. Can you?
By the way I refuse to put the entire disgusting image on this blog because, well you know ick, but if you want to see Trump in his entire naked "glory" just click the link.
Personally I think the artist was a little too generous. I actually think that Trump's little fella is much smaller.
It would explain so much.