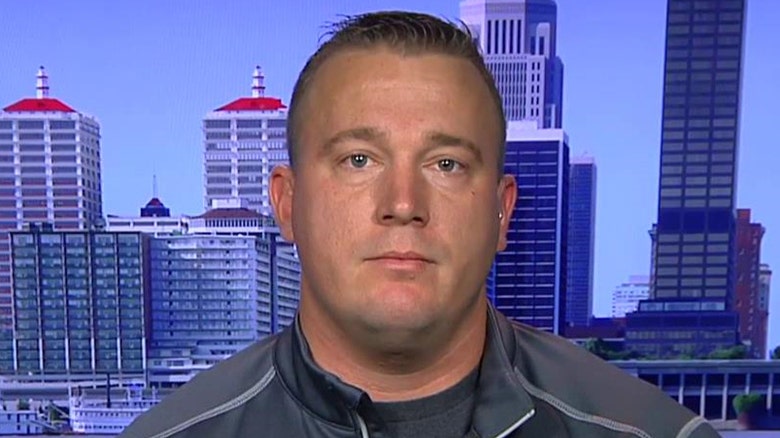 Courtesy of Dakota's
Facebook page
:
Today I am not only speaking to you as a veteran of the Unites States military but also as an American and a father. In the political climate we find ourselves with candidates for both the Republican and Democratic Parties all but formally announced. It is important to remember not only to vote but that you are not just voting for the candidate's political platform but the party which they represent. A president is limited in their ability to get things done without the support of those the United States Senate and House of Representatives. It is the party which dictates much of the success of most policies.
(You can almost feel teachers all over the country reflexively reaching for their red pencils. Can't you?)
I feel that even though Donald Trump is by far not my candidate of choice but he represents my party and to that end my interests. It is not the Republican Party that over the past 8 years that has splintered this country, weakened its military, drained its economy, or bastardized our first responders.
(Bastardized our first responders? WTF?)
I've been adamant from day one calling for a united country; during the riots in Seattle, Ferguson, and Baltimore, when people where trampling the flag publically (Ooh, nice try.), when there have been demands for segregation, every time there has been a push for further division. Divide and conquer has been the mantra of the Democratic Party for too long and America has suffered for it. Now is the time to rally support and lien
(Really?)
toward unity to mend the country and bring about positive changes that will lead to the undoing of what's done over the past 8 years. What this country does not need is another 4, or even 8, years of disassembly, division, and erosion of the constitution.
The Republican Party is being forced to undergo an overhaul and maybe its long overdue. Now may just be the time take a step forward, evolve as a party
(Hopefully one that supports better education.)
, and to give birth to a new hope for a better country in the years to follow. I support the Republican Party in these upcoming elections and invite you to do the same.
First off in case somebody with a middle school education goes over and reedits this page trust me that this is verbatim what was written when I posted it.
Secondly let's give Meyer credit for typing this out, most likely with at least two fingers, all on his own.
After all since the Palins apparently lost Nancy French neither Granny Grifter's
Facebook page
, nor
the blog
of her little grifter in training have been updated. Which I guess might mean that the Palins realize that they are completely incoherent on their own, or that French refuses to tell them the passwords.
So yes Dakota Meyer, while showing a complete lack of integrity by jumping on the Trump train after earlier coming out in support of Ted Cruz, at least has the balls to demonstrate his political naivete in all of its misspelled and poorly typed glory.
As Sarah Palin would say "Hoohah!"