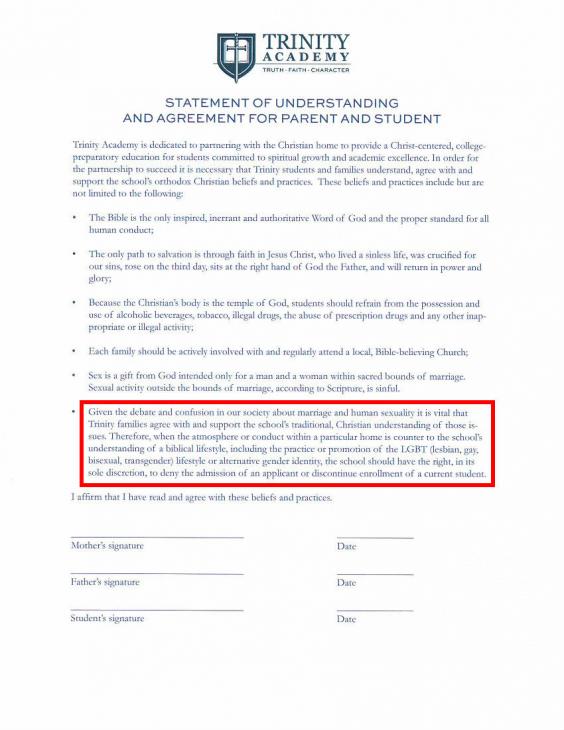 Courtesy of the
Independent
:
A Christian school in Kansas is at the centre of mounting controversy after it emerged that it reserved the right to expel students if any of their family members were gay or transgender.
A so-called Statement of Understanding sent to parents who wish to send their children to the private school located in Wichita, requires them to agree that a student who attends can he asked to leave if their home life promotes anything "counter to the school's understanding of a biblical lifestyle". All pupils and parents are required to sign the document.
"Given the debate and confusion in our society about marriage and human sexuality it is vital that Trinity families agree with and support the school's traditional, Christian understanding of those issues," says the document.
"Therefore, when the atmosphere or conduct within a particular home is counter to the school's understanding of a biblical lifestyle, including the practice or promotion of the LGBT (lesbian, gay, bisexual, transgender) lifestyle or alternative gender identity, the school should have the right, in its sole discretion, to deny the admission of an applicant or discontinue enrollment of a current student."
Man you really have to hand it to religious fundamentalists, when it comes to deep dark nasty discrimination they have no equal.
Now see to a freethinker like myself the very idea that some school would reject me because they held a prejudice opinion of some member of my family would get their name scratched off my educational wish list so fast I would probably snap my number two pencil in half doing it.
But then again I did not spend my formative years being indoctrinated into a primitive superstitious cult that would make me ignorant enough to even consider attending a school like Trinity Academy.