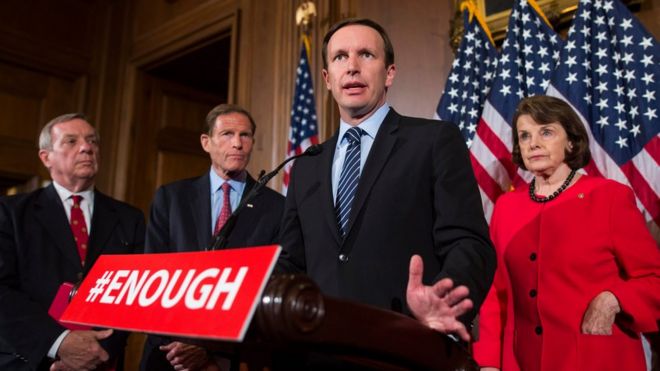 Courtesy of
CNN
:
Senators couldn't muster enough bipartisan support to pass a series of gun control measures Monday, the latest in a long string of failed attempts at enacting tighter curbs on firearms in the United States.
Spurred by the worst mass shooting in U.S. history, senators from each party introduced the measures they said would have strengthened background checks and prevented suspected terrorists from obtaining weapons.
But tough election year politics, paired with disputes over the effectiveness of each party's ideas, proved too powerful to break the longstanding partisan gridlock that's surrounded gun issues for years.
The result was expected. A fifth option, set to be introduced and voted upon as early as Tuesday by moderate Republican Sen. Susan Collins, has generated more optimism, but still faces long odds at passage.
It's unlikely that last option will pass either.
Let's face it the NRA completely controls the Republicans in the House and the Senate and as long as they do there will never be any progress on protecting Americans from being gunned down in the streets with military style weapons.
Right about now I bet you are all wondering what Medal of Honor recipient Dakota Meyer thinks of all of this. (I'm just kidding I doubt anybody really cares at all, but he's going to tell you anyway.)
As you can see Meyer is now using Bristol's Instagram account as a soapbox for his opinions which now include attacks on Hillary Clinton and the promotion of NRA propaganda.
So I guess it's safe to assume he is completely assimilated.
So much for all of that talk about honor.