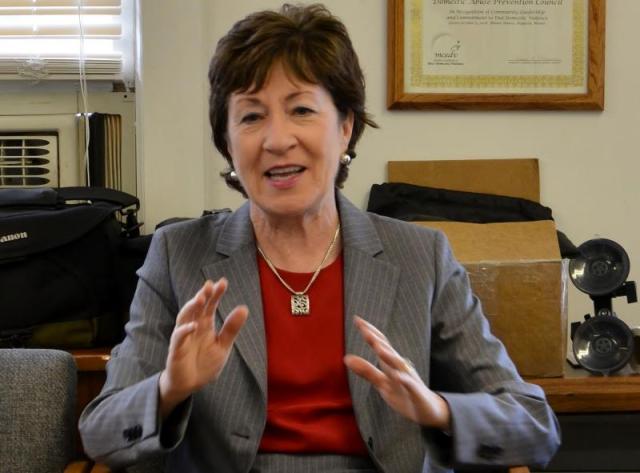 Here is a link to Senator Collins article over at the
Washington Post
:
I will not be voting for Donald Trump for president. This is not a decision I make lightly, for I am a lifelong Republican. But Donald Trump does not reflect historical Republican values nor the inclusive approach to governing that is critical to healing the divisions in our country.
When the primary season started, it soon became apparent that, much like Sen. Bernie Sanders (I-Vt.), Mr. Trump was connecting with many Americans who felt that their voices were not being heard in Washington and who were tired of political correctness. But rejecting the conventions of political correctness is different from showing complete disregard for common decency. Mr. Trump did not stop with shedding the stilted campaign dialogue that often frustrates voters. Instead, he opted for a constant stream of denigrating comments, including demeaning Sen. John McCain's (R-Ariz.) heroic military service and repeatedly insulting Fox News host Megyn Kelly.
With the passage of time, I have become increasingly dismayed by his constant stream of cruel comments and his inability to admit error or apologize. But it was his attacks directed at people who could not respond on an equal footing — either because they do not share his power or stature or because professional responsibility precluded them from engaging at such a level — that revealed Mr. Trump as unworthy of being our president.
Now that is pretty bad for Donald Trump, as Susan Collins is a highly respected Senator, however perhaps
this is even worse
:
Fifty former top Republican national security officials have signed an open letter in The New York Times opposing Donald Trump's candidacy, warning that he would be "the most reckless president in American history."
Many of the officials served in the administration of former President George W. Bush, but some served other Republican administrations.
"From a foreign policy perspective, Donald Trump is not qualified to be president and commander-in-chief," the letter said. "Indeed, we are convinced that he would be a dangerous president and would put at risk our country's national security and well-being."
Yeah, that's worse.
And of course it is only now added to the long list of Republicans and donors who are publicly rejecting Trump as their candidate.
It is looking more and more likely that either Trump does not make it to the general election, or gets "schlonged" once he does.