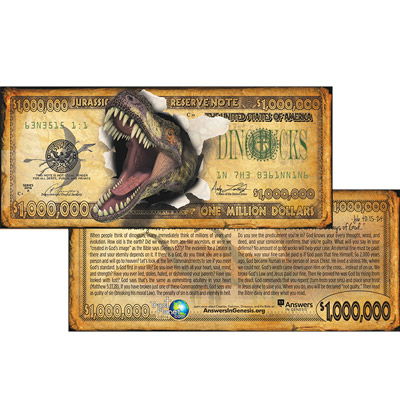 Courtesy of
HuffPo
:
Anti-Halloween creationists have some ideas about the holiday that could turn your home into the least popular trick-or-treat stop in the neighborhood.
Instead of handing out candy, Answers in Genesis wants you to give trick-or-treaters fake $1 million bills that warn children of the fiery hell that awaits them.
"Have you ever lied, stolen or used God's name in vain?" reads part of a fake bill with Noah's Ark on the front. "The penalty for your crimes against God is death and eternal hell."
A bill featuring a picture of a dinosaur is just as pleasant.
"Have you ever lied, stolen, hated or dishonored your parents? Have you looked with lust? God says that's the same as committing adultery in your heart," a message on the bill reads as it describes the Ten Commandments.
And if you've broken any of these rules, you're doomed: "The penalty of sin is death and eternity in hell."
Answers in Genesis are that group of assholes trying to trick kids into thinking that Evolution is bullshit and that every animal we see today was rescued from a global flood in a physics defying wooden boat.
Any "Christian" adult who attempts to terrify children with visions of hell should be arrested for domestic terrorism in my book (I know that may seem extreme to some but I think purposefully giving children nightmares, and making them live a life of fear, is just about the worst thing you can possibly do.) and thrown in the same jail cell where they keep the child molesters and kiddie porn watchers.
Actually that is probably the best place for them to run into other members of their church.
By the way for the next knuckle dragging moron who comes over to IM to bitch that I am always going after religious people, shit like this is the reason why.
If religious folks want to stay in their little churches lying to each other about things their pee brains are too tiny to understand I would not think twice about them.
But when you push your religious point of view into the realm of politics, public education, and into our children's lives then you deserve whatever negativity you might receive.