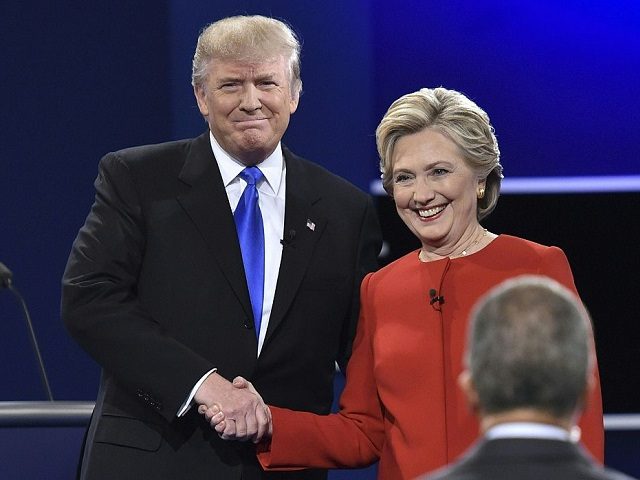 Courtesy of
Business Insider
:
A Fox News poll released Friday confirmed what other scientific surveys have found in the aftermath of the first presidential debate: Hillary Clinton prevailed over Donald Trump in the affair, and she has seen a slight overall national bump because of it.
The poll, which was conducted entirely after the debate, found that 61% of voters who watched the debate viewed Clinton as the winner. Just 21% thought Trump came out on top.
Okay just take a moment to look at these numbers.
This is not just eking out a victory, or even beating somebody handily. 61 to 21 is stomping him into a mud hole and taking a week's worth of lunch money.
Of course there is one person who completely disagrees with these polling results.
I won the debate if you decide without watching the totally one-sided "spin" that followed. This despite the really bad microphone.

— Donald J. Trump (@realDonaldTrump) October 1, 2016
And since the debate we have watched Trump making things infinitely worse by having a
Twitter meltdown
over Miss Venezuela.
That is like beating a man in a boxing ring and then having him fall down the stairs while exiting the building, and then being hit by oncoming traffic as he crosses the street to his car.
And the effect of this?
Courtesy of
Fox News
:
A new Fox News poll shows Hillary Clinton has a slight lead over Donald Trump after the first presidential debate.
On "Special Report" tonight, Bret Baier revealed that in a four-way presidential race, Clinton got 43 percent, compared to 41 percent earlier this month.
Remember folks this is a Fox News poll.
There are also a number of
state polls
showing Hillary making significant gains as well. Including in some swing states.
And it has been enough for the folks over at
FiveThirtyEight
to make this observation:
National polls conducted since Monday's presidential debate have shown Hillary Clinton ahead of Donald Trump by an average of about 4 percentage points — a meaningful improvement from her position before the debate, when she led by just 1 or 2 points. Now, it's becoming clearer that battleground state polls are moving toward Clinton as well.
There was an attempt by the Right Wing, including some talking heads on Fox News, to use those unreliable online polls to create the narrative that Trump had done much better than expected, but now that the more trustworthy polls, including one Fox News itself, are showing just the opposite it is going to be much harder for them to continue lying to themselves.
Not impossible mind you, but much harder.
So what does this all mean?
Well essentially as long as Hillary Clinton is not filmed stomping on kittens she should have this thing in the bag.
And hopefully Trump will follow through with his threat to use Bill's past infidelities to attack Hillary in the next debate, because that can do NOTHING but help Democrats in the long run.