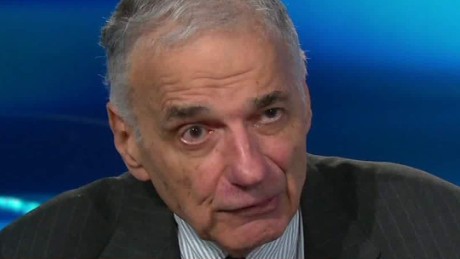 Seriously did you people learn nothing?
Courtesy of
HuffPo
:
The Huffington Post spoke with Nader voters who have since figured out that the best way to fix the two-party system is to join it. They've worked in Democratic politics for years ― some as penance for what they did in 2000 ― and they worry that Stein voters are going to be making the same mistake they did with Nader.
"If you think there's no difference between Donald Trump and Hillary Clinton, then you're not paying attention," said Joe Rospars, who was the chief digital strategist for both of Barack Obama's presidential campaigns and voted for Nader in Virginia when he was 19. "I don't think that I'm just an old person now saying what an old person would have said to me 16 years ago. ... Voting for Jill Stein in a battleground state or Gary Johnson for any reason is just not a useful way to operate the electoral system."
Nader took 2.7 percent of the vote in 2000, and there's been a national argument ever since over whether he cost Gore the election. He received nearly 100,000 votes in Florida, a state in which Bush beat Gore by only 537 votes.
People who went for Nader in 2000 have done their own soul-searching over the years, with plenty of accusations from friends that they led to things like the Iraq War.
"Those of us who voted for Ralph Nader in 2000, most of us, if we had to do it over again, would not do it," said Kurt Ehrenberg, 58, who served as Sen. Bernie Sanders' (I-Vt.) New Hampshire political director but now solidly backs Clinton. "You feel, in some small way, responsible for all this stuff that George W. Bush was able to do because he was elected president ― even though it was the closest race in my lifetime and there's still some question as to whether, if all the votes had been counted, Bush would've won."
I have been waiting for these folks to show up in this election cycle and talk some sense into those third party dipshits.
After all it was the 2000 election that turned me off to third party candidates in the first place.
First off, they are NEVER going to be elected.
Second their only purpose is to help one side or the other by stealing votes from their opponent.
And third don't give me that "protest vote" bullshit.
If you cast a vote for a third party candidate the only thing you are protesting is the lack of oxygen making it to your brain. You essentially knock yourself down a notch, from barely useful to the political system to completely insignificant.
Congratulations.