Courtesy of the
Washington Post
:
The tape obtained by The Post includes audio of Bush and Trump's conversation inside the bus, as well as audio and video once they emerge from it to begin shooting the segment.
In that audio, Trump discusses a failed attempt to seduce a woman, whose full name is not given in the video.
"I moved on her, and I failed. I'll admit it," Trump is heard saying. It was unclear when the events he was describing took place. The tape was recorded several months after he married his third wife, Melania.
"Whoa," another voice said.
"I did try and f--- her. She was married," Trump says.
Trump continues: "And I moved on her very heavily. In fact, I took her out furniture shopping. She wanted to get some furniture. I said, 'I'll show you where they have some nice furniture.' "
"I moved on her like a bitch, but I couldn't get there. And she was married," Trump says. "Then all of a sudden I see her, she's now got the big phony tits and everything. She's totally changed her look."
At that point in the audio, Trump and Bush appear to notice Arianne Zucker, the actress who is waiting to escort them into the soap-opera set.
"Your girl's hot as s---, in the purple," says Bush, who's now a co-host of NBC's "Today" show.
"Whoa!" Trump says. "Whoa!"
"I've got to use some Tic Tacs, just in case I start kissing her," Trump says. "You know I'm automatically attracted to beautiful — I just start kissing them. It's like a magnet. Just kiss. I don't even wait."
"And when you're a star, they let you do it," Trump says. "You can do anything."
"Whatever you want," says another voice, apparently Bush's.
"Grab them by the p---y," Trump says. "You can do anything."
Yeah I think we can call it a day now.
I don't care WHO you are, you do not recover from something like this.
Period!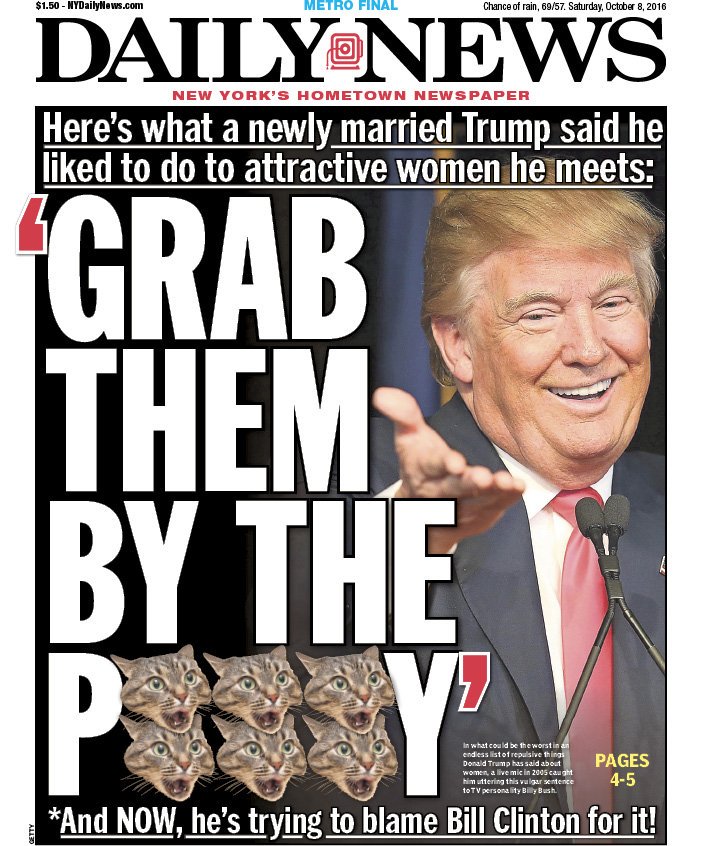 I seriously would be surprised if Trump even bothers to show up to Sunday's debate.
Update: Here is Trump's
actual response
:
"This was locker-room banter, a private conversation that took place many years ago. Bill Clinton has said far worse to me on the golf course — not even close," Trump said in a statement. "I apologize if anyone was offended."
For the record when you include the phrase "if anyone was offended" in your "apology" that demonstrates that you do not believe what you said was offensive and that you are only saying those words to placate your critics.
And by the way if Bill Clinton did indeed say worse on the golf course I await the audio tape which proves that, and I would also like to remind Trump that he is not running against Bill Clinton.
He is running against the candidate destined to be the first female President in the United States.
And Trump just handed this election to her on a misogyny laced silver platter.
Update 2: Hillary's response.
— Hillary Clinton (@HillaryClinton) October 7, 2016
I imagine that this was probably tweeted by a staff person as Hillary is probably too busy dancing a jig to type anything herself right now.
Update 3: I think this a very appropriate tweet for this evening.
— Nate Silver (@NateSilver538) March 24, 2016
Things I once thought were impossible do not seem quite so impossible anymore.
Update 4:The woman that Trump was talking about on that bus ("I moved on her like a bitch.") has been identified.
.
Her name is Nancy O'Dell and she is a co-host on Entertainment Tonight.
Boy I can hardly wait to hear HER version of events.
Update 5: Here is the first apology video that Donald Trump has EVER made. And it sucks.
Did Sarah Palin help him write that "apology?"
And look he is STILL trying to smear Bill and Hillary Clinton.
Yeah asshole, we WILL see you at the debate.