— Jeff Gauvin (@JeffersonObama) December 14, 2016
Courtesy of
WaPo
:
A secret U.S. military investigation in 2010 determined that Michael T. Flynn, the retired Army general tapped to serve as national security adviser in the Trump White House, "inappropriately shared" classified information with foreign military officers in Afghanistan, newly released documents show.
Although Flynn lacked authorization to share the classified material, he was not disciplined or reprimanded after the investigation concluded that he did not act "knowingly" and that "there was no actual or potential damage to national security as a result," according to Army records obtained by The Washington Post under the Freedom of Information Act.
Flynn has previously acknowledged that he was investigated while serving as the U.S. military intelligence chief in Afghanistan for sharing secrets with British and Australian allies there. But he has dismissed the case as insignificant and has given few details.
The Army documents provide the first official account of the case, but they are limited in scope because the investigation itself remains classified. Former U.S. officials familiar with the matter said that Flynn was accused of telling allies about the activities of other agencies in Afghanistan, including the CIA.
Color me confused but isn't this kind of the same thing that the Trump campaign and GOP have been falsely accusing Hillary Clinton of doing?
So the Republicans are justified in spending millions of tax payer dollars to conduct a witch hunt against Hillary Clinton, only to come up with nothing, and yet this guy, who actually DID what she was accused of doing, gets rewarded with a job in the Trump administration?
You know I really do not think that hypocrisy is a strong enough word here.
In other news Flynn finally
deleted that tweet
accusing Hillary of sex crimes against children: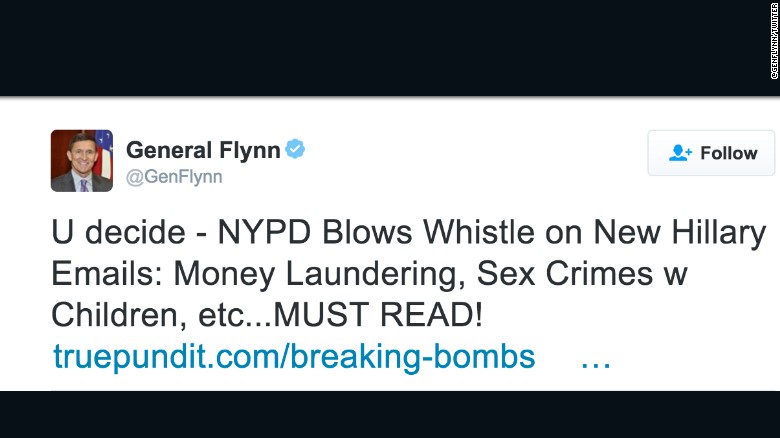 Yeah, hypocrisy definitely does not cover this.