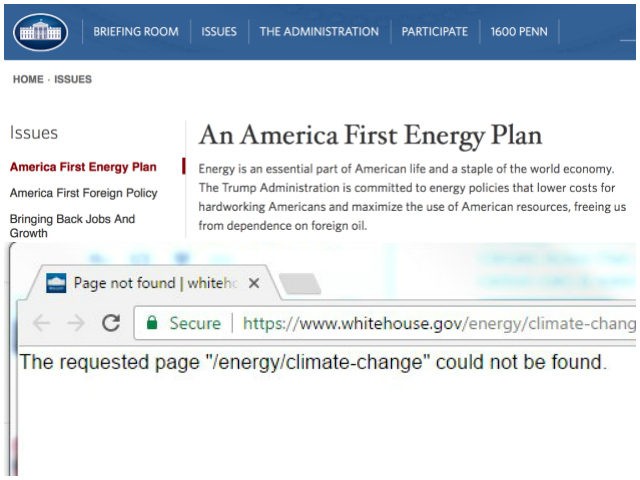 Courtesy of
Motherboard
:
At 11:59 am eastern, the official White House website had a lengthy information page about the threat of climate change and the steps the federal government had taken to fight it. At noon, at the instant Donald Trump took office, the page was gone, as well as any mention of climate change or global warming.
It's customary for www.whitehouse.gov to flip over to the new administration exactly at noon, but the only mention of climate on President Trump's new website is under his "America First Energy Plan" page, in which he vows to destroy President Obama's Climate Action Plan, which is a government-wide plan to reduce carbon emissions and address climate change. To reiterate: It is normal that the site is completely new; it is notable that climate change is not mentioned on any one of Trump's new pages.
"President Trump is committed to eliminating harmful and unnecessary policies such as the Climate Action Plan and the Waters of the U.S. rule," the site says. A search of the website found no mention of "global warming," and the only mentions of "climate change" were archived pages that, after clicking on the links, led to scrubbed pages.
This is only the beginning.
The website also scrubbed
any mention of LGBTQ protections, Women's rights, civil rights, and health care.
The Republicans, with Trump's help, are determined to reverse every bit of progress President Obama achieved, and to scrub him from the pages of history.
It will be up to us to protect his legacy, fight against any attempts to take us back to pre-Obama times, and remind people of all that he accomplished during his time in office.
Remember what a great American President once said, "WE are the change we have been waiting for."
And if we want to defend that change, then our fight is far from over.