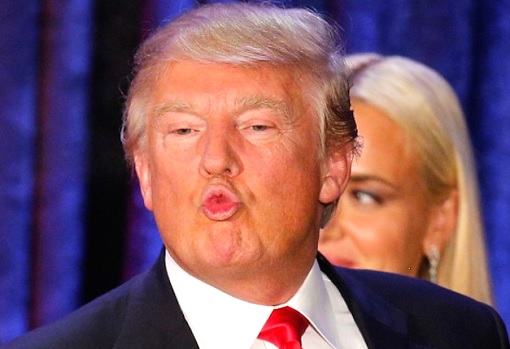 I love you Russian media, I love you bigly.
Courtesy of
Bloomberg News
:
The Kremlin ordered state media to cut back on their fawning coverage of President Donald Trump, reflecting a growing concern among senior Russian officials that the new U.S. administration will be less friendly than first thought, three people familiar with the matter said.
The order comes amid a growing chorus of anti-Russian sentiment in Washington, where U.S. spy and law-enforcement agencies are conducting multiple investigations to determine the full extent of contacts Trump's advisers had with Russia during and after the 2016 election campaign.
Vladimir Putin's administration justified the decision to curb coverage of Trump by saying that Russian viewers no longer find details of his transition to power interesting, according to one of the people. In reality, some of the most popular TV segments on Trump touched on ideas the Kremlin would rather not promote, such as his pledge to "drain the swamp," the person said.
"They won't pour buckets of criticism on Trump, they just won't talk about him much," Konstantin von Eggert, a political commentator for TV Rain, Russia's only independent channel, said by phone. "The fate of Russia-American relations is much less predictable than it was just a few weeks ago."
Most reports on this are focusing on Putin;s desire to keep things on the DL during the investigation into Trump's ties to Russia and the hacking they did to make him their Manchurian candidate.
However there is also the fact that in January Trump received more coverage on Russian TV than Vladimir did, and that does not set well with an out sized ego like Putin's.
Whatever the reason you think most probable, the REAL story here is that Trump did indeed receive more coverage than Russia's shirtless pseudo dictator and that the government had to order the state run media to stop tickling his orange tinted nutsack.
As for the AMERICAN media, well Donald Trump has just identified them as the enemy.
— Donald J. Trump (@realDonaldTrump) February 17, 2017
"One of the most effective press conferences I've ever seen!" says Rush Limbaugh. Many agree.Yet FAKE MEDIA calls it differently! Dishonest

— Donald J. Trump (@realDonaldTrump) February 17, 2017
Remember, Donald Trump has never called Russia the enemy of the American people once.
Only that is a label he reserves for ISIS, Iran, and now American journalists.
I wonder what happens the first time one of his deranged supporters decides to act on this and ends up punching MSNBC's Katy Tur in the face? Or unloads a pistol at Anderson Cooper? Or hits Megyn Kelly with their car?
I imagine if that happens the Russian media will be quick to come to his defense.