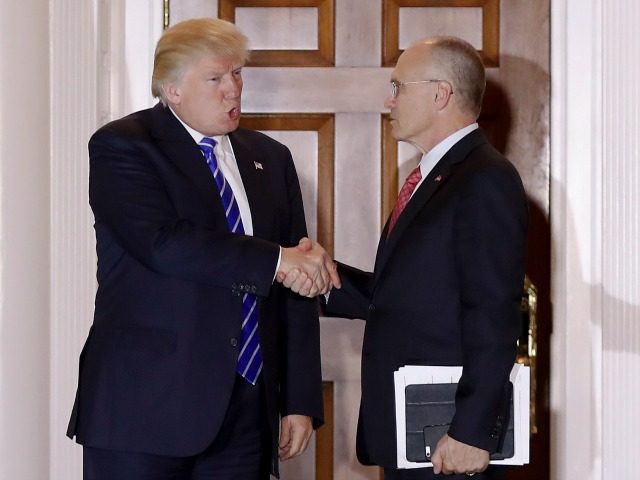 Donald Trump with that hamburger dude.
Courtesy of
HuffPo
:
Andy Puzder confirmed Wednesday afternoon that he will pull himself from consideration for labor secretary. He is the first of President Donald Trump's nominees to not make it through the confirmation process.
In a statement, Puzder praised the "highly qualified team" of Trump picks that he will no longer be joining.
"I want to thank President Trump for his nomination," Puzder said. "I also thank my family, and my many supporters ― employees, businesses, friends and people who have voiced their praise and hopeful optimism for the policies and new thinking I would have brought to America as Secretary of Labor."
The move came as support evaporated among Republicans for the former fast-food executive. At least seven Republican senators refused to publicly back the former chief executive of CKE Restaurants, which owns the burger chains Carl's Jr. and Hardee's, as criticism mounted over his hefty stack of labor violations and long-standing support for increased immigration.
This could likely be the response to Oprah Winfrey finding
that old footage
of Puzder's wife accusing him of being a wife beater.
However I would not be at all surprised to find more of Trump's nominees and cabinets picks suddenly discovering better things that they could do with their time and saying "Thanks, but no thanks."
After all the evidence of collusion between the Trump campaign and the Russians is getting clearer all of the time, and if I were being considered for a job with his scandal riddled administration I would certainly be aggressively weighing the pros and cons.
And then recognizing that the cons far outweigh the pros.
Personally I am rapidly reaching the conclusion that there will not be a Donald Trump administration to join by the time all of the facts come to light.