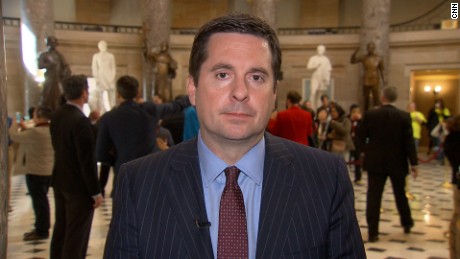 Courtesy of the
Daily Beast
:
Hours before the chairman of the House Intelligence Committee announced his shocking claims about surveillance of the Trump transition team on Wednesday morning, he practically disappeared.
Rep. Devin Nunes was traveling with a senior committee staffer in an Uber on Tuesday evening when he received a communication on his phone, three committee officials and a former national security official with ties to the committee told The Daily Beast. After the message, Nunes left the car abruptly, leaving his own staffer in the dark about his whereabouts.
By the next morning, Nunes hastily announced a press conference. His own aides, up to the most senior level, did not know what their boss planned to say next. Nunes' choice to keep senior staff out of the loop was highly unusual.
That next morning Devin Nunes
did this
:
— CBS News (@CBSNews) March 22, 2017
So the question to ask is who could have suddenly called Nunes that night to convince him to ditch his Uber ride, and then sabotage the investigation, and possibly his own career, the next morning?
Look I pride myself on having a fertile imagination, but I could NEVER have written a more convoluted and crazy scenario on my best day.