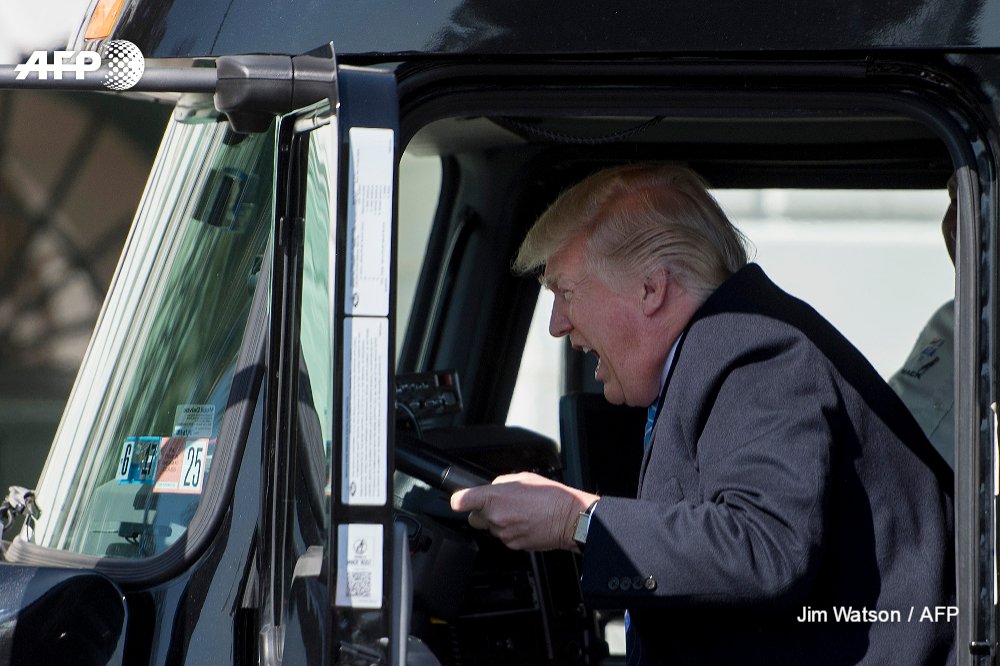 Trump playing in a truck.
Courtesy of the
New York Times
:
Presidents usually choose their words carefully, the result of personal discipline and careful vetting by White House staff. President Trump is an exception.
In an interview with Time magazine, published on Thursday, Mr. Trump veers from topic to topic, praising himself and dismissing his critics in language that sometimes is hard to follow.
Here are some of those excerpts.
On his claim that Obama wiretapped him:
Why do you say that I have to apologize? I'm just quoting the newspaper, just like I quoted the judge the other day, Judge Napolitano. I quoted Judge Napolitano, just like I quoted Bret Baier. I mean Bret Baier mentioned the word wiretap. Now he can now deny it, or whatever he is doing, you know. But I watched Bret Baier, and he used that term. I have a lot of respect for Judge Napolitano, and he said that three sources have told him things that would make me right. I don't know where he has gone with it since then. But I'm quoting highly respected people from highly respected television networks.
It does not seem to bother him at all that one of Napolitano's sources later said that the judge misquoted him or that Napolitano lost his job at Fox News over this.
Concerning those "terrorist attacks" in Sweden:
I am talking about Sweden. I'm talking about what Sweden has done to themselves is very sad, that is what I am talking about. That is what I am talking about. You can phrase it any way you want. A day later they had a horrible, horrible riot in Sweden and you saw what happened. I talked about Brussels. I was on the front page of The New York Times for my quote. I said Brussels is not what it used to be, very sad what has happened to Brussels. I was absolutely lambasted. A short time later they had the major attack in Brussels. One year ago today. Exactly one year ago today. And then people said, "You know, Trump was right."
So now he is Nostradamus, predicting events BEFORE they happen?
Trump also apparently knows the meaning of life:
I happen to be a person that knows how life works. I said I was going to win the election, I won the election. In fact, I was number one the entire route, in the primaries. From the day I announced, I was number one. And The New York Times and CNN and all of them, they did these polls, which were extremely bad and they turned out to be totally wrong, and my polls showed I was going to win. We thought we were going to win the night of the election.
Actually the reporting I have seen demonstrated that Trump did NOT know he was going to win, and in fact was caught by surprise when he did.
And finally:
I inherited a mess with jobs. Despite the statistics, you know, my statistics are even better, but they are not the real statistics because you have millions of people that can't get a job, O.K. And I inherited a mess on trade. I mean we have many, you can go up and down the ladder. But that's the story. Hey look, in the meantime, I guess, I can't be doing so badly, because I'm president, and you're not. You know. Say hello to everybody, O.K.?
"I can't be doing badly, because I'm president and you're not." I don;t even know how to respond to that.
Actually as we know Trump did NOT inherit a mess, he inherited a country that had already been rescued from the LAST unfit president to hold office.
Let's face it folks, the Russians convinced a lot of really stupid people to elect a psychotic toddler.
And now we are stuck with him.
Well, at least for the time being.