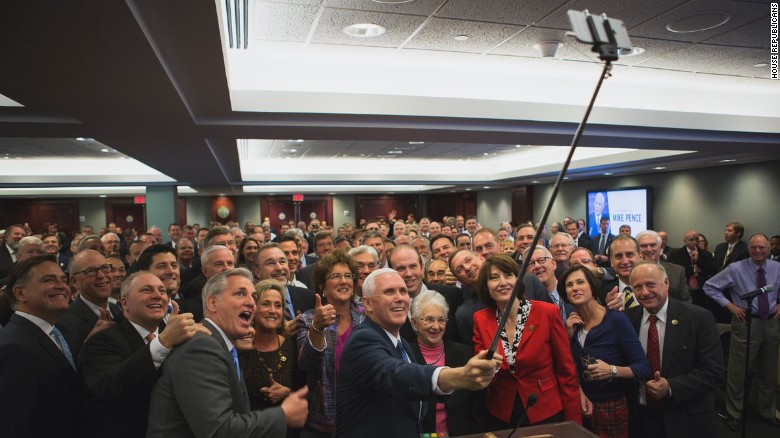 Mike Pence and House Republicans pose for a selfie.
Courtesy of
HuffPo
:
House Republicans on Tuesday defeated a resolution that would have asked the Department of Justice to reveal what it has uncovered about President Donald Trump's contacts with Russia and his conflicts of interest with other foreign governments.
Eighteen Republicans on the House Judiciary Committee opposed a resolution offered by Rep. Jerrold Nadler (D-N.Y.) that would have required Attorney General Jeff Sessions to hand over information related to investigations into the president, his campaign aides, the White House and Trump's businesses.
The vote came about after Nadler and other Judiciary Committee Democrats made several unsuccessful appeals to Chairman Bob Goodlatte (R-Va.) requesting he hold hearings on Trump's Russian ties and other foreign conflicts. Goodlatte opposed the resolution, calling it "overbroad" and "premature."
Nadler's resolution is one way Democrats are pressuring Republicans over the president's business conflicts and his campaign's possible ties to hacking by Russian intelligence services against Democratic presidential nominee Hillary Clinton.
So is that it, is this whole thing over?
Fuck no!
In fact it is just getting started.
Right now the Republicans are hoping against hope that they can obfuscate, undermine, and ultimately delay all of this until the American citizens get distracted by the next shiny new thing.
However the more pressure they receive in the form of phone calls, emails, and faxes the harder it will be for them to keep putting things off. (You can start that process by clicking
here
.)
Want proof?
Here is what Darrell Issa, that guy who would have investigated the Obama Administration for wearing white after Labor Day, had to say after this was voted down:
Rep. Darrell Issa (R-Calif.) did not support the resolution, but said committee members should send bipartisan letters asking for information related to the Russian hacking allegations. He added: "If [Russia has] attempted to distort our democracy, we need to know it."
So why would Darrell Issa, a guy who is so partisan that he would have thrown his own mother in jail for voting Democrat, be breaking with his GOP comrades over this?
Because he just barely won his seat in the last election that's why and he is smart enough at least to figure out where the wind is blowing on this, and it is not blowing in Donald Trump's favor.
All it takes for the Republicans to jump on board the "Let's investigate Donald Trump" train is the realization that if they don't their political careers are over.