THIS is what NBC News is starting off their broadcast with tonight following the Comey hearings this morning.
No longer is there any pussyfooting about Trump's false statements, NOW they are simply calling him what he is.
A liar.
And if that were not bad enough Trump's approval ratings are now reflecting the American people's lack of confidence in his ability to do the job and their ability to trust anything that he says.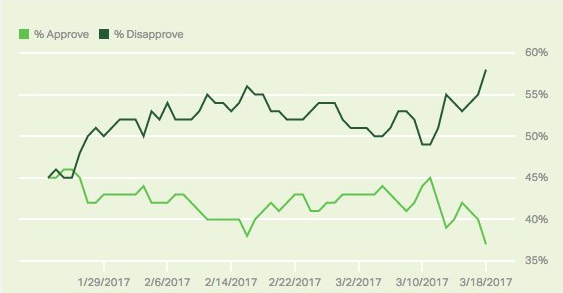 Courtesy of
HuffPo
:
President Donald Trump's latest approval rating has sunk to a new low, according to the latest Gallup poll.
Only 37 percent of Americans approve of the job Trump is doing, and 58 percent disapprove, the daily poll found Sunday. Those are the worst ratings since he took office eight weeks ago. His approval rating stood at 45 percent just nine days ago.
Trump's approval rating is lower than any other president at this point in his first term since Gallup started tracking the numbers 72 years ago in 1945. Barack Obama's rating at this point in his presidency was 60 percent.
And remember, this was BEFORE the Comey hearing this morning.
Wait until it starts to hit negative numbers.