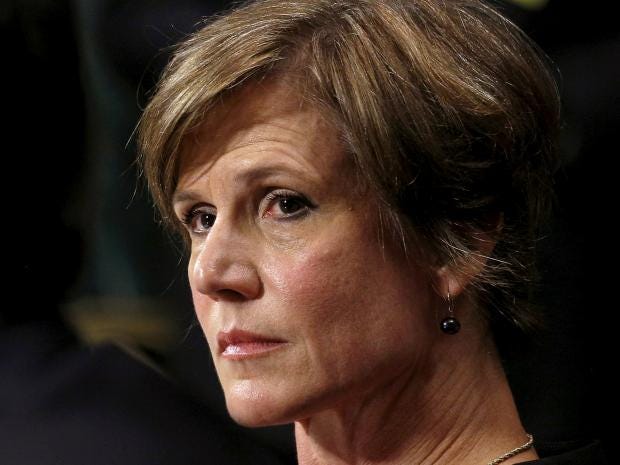 Courtesy of the
Washington Post
:
The Trump administration sought to block former acting attorney general Sally Yates from testifying to Congress in the House investigation of links between Russian officials and Donald Trump's presidential campaign, The Washington Post has learned, a position that is likely to further anger Democrats who have accused Republicans of trying to damage the inquiry.
According to letters The Post reviewed, the Justice Department notified Yates earlier this month that the administration considers a great deal of her possible testimony to be barred from discussion in a congressional hearing because the topics are covered by the presidential communication privilege.Yates and other former intelligence officials had been asked to testify before the House Intelligence Committee this week, a hearing that was abruptly canceled by the panel's chairman, Rep. Devin Nunes (R-Calif.).
Yates was the deputy attorney general in the final years of the Obama administration, and served as the acting attorney general in the first days of the Trump administration.
Well gee that seems suspicious.
Why would the Trump administration not want the American people to hear what Sally Yates had to say?
Yates and another witness at the planned hearing, former CIA director John Brennan, had made clear to government officials by Thursday that their testimony to the committee probably would contradict some statements that White House officials had made, according to a person familiar with the matter who spoke on the condition of anonymity. The following day, when Yates's lawyer sent a letter to the White House indicating that she still wanted to testify, the hearing was canceled.
Ooooh.
For their part the White House is denying all of this.
Courtesy of
TPM
:
White House press secretary Sean Spicer, in an emailed statement to TPM, called the Post's story "entirely false."
"The White House has taken no action to prevent Sally Yates from testifying and the Department of Justice specifically told her that it would not stop her and to suggest otherwise is completely irresponsible," he continued.
And boy we know how dedicated to the truth old Spicey is, don't we?
Okay well now I want to hear what Yates has to say more than ever.
Time to start
applying the pressure
.