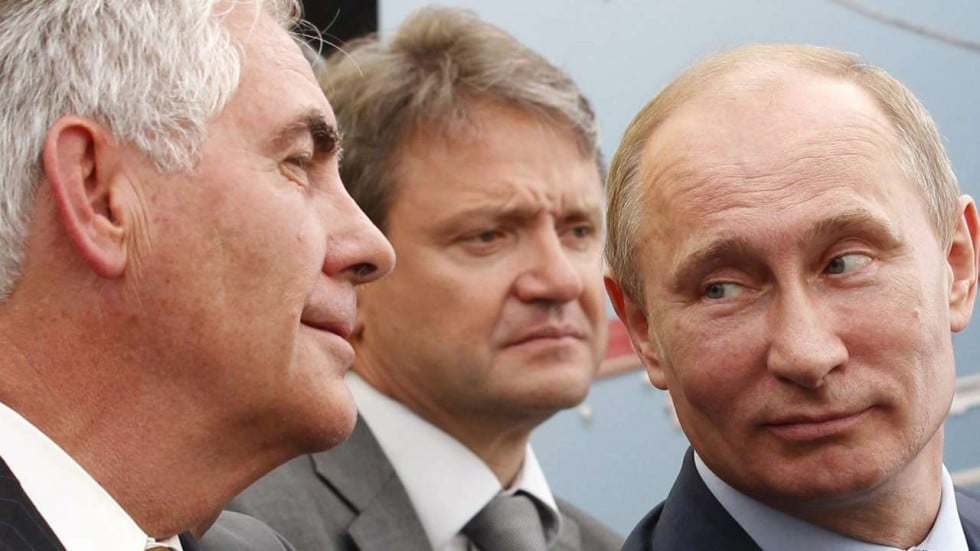 Courtesy of
CNBC
:
The Trump administration will not grant special permission to U.S. companies, including Exxon Mobil, to carry out oil and gas drilling in Russia while sanctions remain intact, according to a statement from Treasury Secretary Steve Mnuchin on Friday.
Exxon tried to secure a waiver that would let it drill in parts of Russia currently blocked by U.S. sanctions, The Wall Street Journal reported this week. That ban was related to Moscow's 2014 annexation of Crimea and support for separatists in eastern Ukraine.
The push came about a month after former Exxon CEO Rex Tillerson became secretary of State.
The Treasury's decision on Friday came as the Trump administration changed its tone on Russia.
Okay to me this seems as if the investigation into collusion between the Trump campaign and the Russians has really got the administration worried.
Because I will goddamn guarantee you that if there were not so much controversy about it, and so many eyes paying attention, that these sanctions would have been lifted so fast they would have left skid marks.
In fact I think it was this deal that convinced Trump to choose Tillerson, former CEO of Exxon, for the job of Secretary of State.
Now one has to wonder how Putin feels about throwing his support behind Trump knowing that he cannot do any of the things that he wanted him to do once he was elected president?
I would not be at all surprised to see Tillerson tender his resignation in the next few months.
Especially because it appears there is a whole lot of shit, about to hit a whole lot of fans, in the very near future.