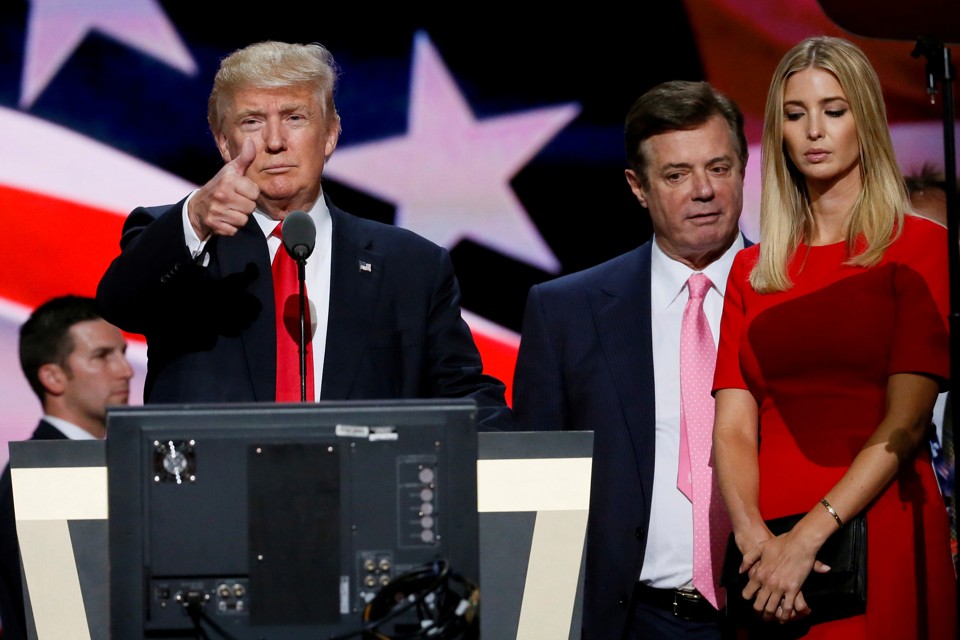 Courtesy of
AP
:
President Donald Trump's former campaign chairman is registering as a foreign agent.
Paul Manafort's spokesman says he was in talks with the government about registering before the 2016 election and is now "taking appropriate steps" in response to "formal guidance" from the government.
The spokesman says Manafort's lobbying work was not conducted on behalf of the Russian government and began before Manafort started working with the Trump campaign.
It's unclear whether Trump was aware that Manafort was in talks with the government about registering before he hired him.
Probably not, I am fairly certain that Trump was not aware of much during the campaign outside of poll numbers and crowd reactions.
You may remember that Trump's former national security adviser Michael Flynn had
previously registered as a foreign agent for Turkey
.
Now having one member of your campaign or administration register as a foreign agent is odd enough, but to have two?
And if that was not enough, we are also learning that Paul Manafort
received money from Trump associates
on the day that he stepped down as the campaign manager:
Aug. 19 was an eventful day for Paul Manafort.
That morning, he stepped down from guiding Donald J. Trump's presidential campaign, after a brief tenure during which Mr. Trump won the Republican nomination, Democrats' emails were hacked and the campaign's contacts with Russia came under scrutiny. Dogged by revelations about past financial dealings in Ukraine, Mr. Manafort retreated from public view.
But behind the scenes, he was busy with other matters. Papers were recorded that same day creating a shell company controlled by Mr. Manafort that soon received $13 million in loans from two businesses with ties to Mr. Trump, including one that partners with a Ukrainian-born billionaire and another led by a Trump economic adviser. They were among $20 million in loans secured by properties belonging to Mr. Manafort and his wife.
The purpose of the loans is unstated in public records, although at least some of them appear to be part of an effort by Mr. Manafort to stave off a personal financial crisis stemming from failed investments with his son-in-law.
So to sum up, Paul Manafort was working as a foreign agent for Ukraine during his time as Trump's campaign manager, he received at least
1.2 million in secret payments from Ukraine
before coming to work for Trump's campaign, and then received around 13 million "in loans" after he was forced to leave that campaign when his ties to Russia and Ukraine were made public.
But hey, no reason to be suspicious. Right?