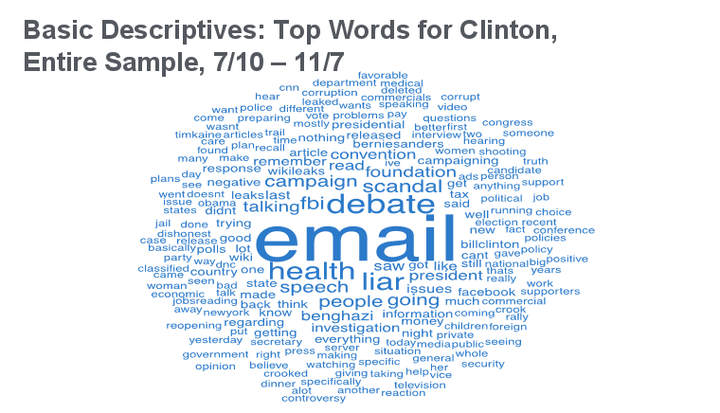 Courtesy of
HuffPo:
During last year's election, the polling firm Gallup regularly asked Americans if they'd read, heard, or seen anything about the presidential candidates in the last few days. Those who had ― usually two-thirds or more of the public in any given week ― were asked to elaborate.
The researchers then pulled out the words used by the public to describe what they were hearing about both candidates, as part of an effort to figure out what information was reaching voters and staying with them.
In a chart of the most common words used in relation to Clinton between last summer and Election Day, the word "email" quite literally crowds out the rest, with several of the other most prevalent words also alluding to perceptions that she was scandal-plagued.
With emails so prominently on the minds of the voters, which was constantly being reinforced by the Wikileaks drip drip of leaks from hacked Democratic email accounts, is it really any surprise that Comey's letter had the effect that it had?
It was almost a perfect storm of coordination between the Republicans, the Russians, and the far left who were just looking for a reason not to vote for Hillary in the general.