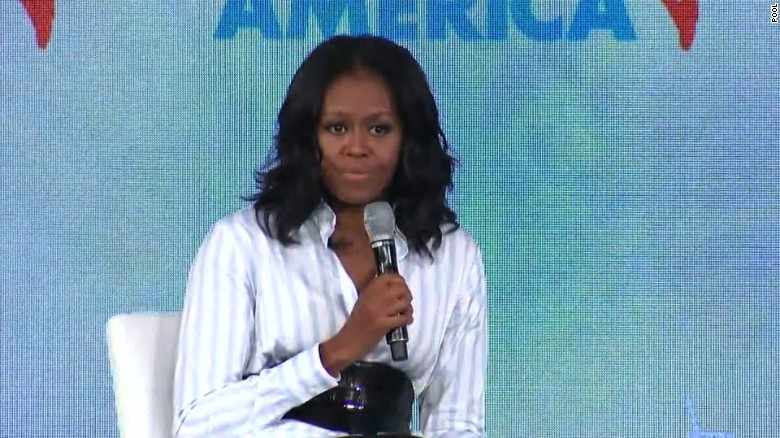 Courtesy of
WaPo
:
A fiery Michelle Obama vigorously defended the healthy eating initiative that was her biggest legacy as First Lady on Friday, telling a public health summit in Washington D.C. that something was "wrong" with an administration that did not want to give consumers nutrition information or teach children to eat healthily.
"We gotta make sure we don't let anybody take us back," Obama said. "This is where you really have to look at motives, you know. You have to stop and think, why don't you want our kids to have good food at school? What is wrong with you? And why is that a partisan issue? Why would that be political? What is going on?"
In a 43-minute conversation, peppered with sarcastic remarks and veiled references to the Trump administration, Michele Obama discussed topics from life since her husband left the presidency to her Let's Move! initiative.
"Take me out of the equation -- like me or don't like me," Obama added. "But think about why someone is okay with your kids eating crap. Why would you celebrate that? Why would you sit idly and be okay with that? Because here's the secret: If someone is doing that, they don't care about your kid."
I have to admit that I love the idea of the former First Lady weighing in on some of these terrible Trump Administration policy decisions. Especially this one that is no near and dear to her heart.
I would argue that she is undoubtedly the most popular First Lady in recent history, and of course she is FAR more popular than Doanld Trump, so her words will definitely have an impact.
And she is certainly not wrong here.
Why would the Republicans not care about good nutrition for our children?
I mean if you combine this with the GOP "health care" plan it seems like they are doing everything they can to shorten our nation's life expectancy.
But that can't be right, can it?