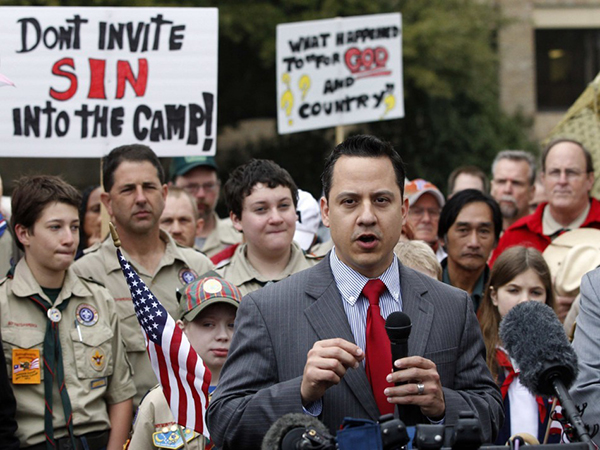 Courtesy of the
New York Times
:
The Mormon Church announced on Thursday that it was partially ending its participation in the Boy Scouts in the United States and Canada as it realigns its youth programs with its own teachings.
In a letter addressed to church authorities, the leaders of the Utah-based Church of Jesus Christ of Latter-day Saints said that the decision to end its sponsorship would affect boys between 14 and 18 years old, starting on Jan. 1, 2018, for units in the Boy Scouts of America and in Scouts Canada. Cub Scout and Boy Scout programs for boys 8 through 13 would be allowed to continue for younger church members, it said.
"In most congregations in the United States and Canada, young men ages 14–18 are not being served well by the Varsity or Venturing programs, which have historically been difficult to implement within the Church," a separate church statement said. "This change will allow youth and leaders to implement a simplified program that meets local needs while providing activities that balance spiritual, social, physical and intellectual development goals for young men."
The Mormons have been treating the Boy Scouts as their own little indoctrination and recruitment center for decades, what could have suddenly soured them on continuing to work with the older scouts?
In recent years, the Boy Scouts have changed policies that once prohibited gay and transgender children and leaders from taking part in their programs. Those changes, while at odds with church teachings, did not directly lead to the decision to end the program for the older boys, a spokesman said, but they did inform it.
Ahh, now I get it.
Besides isn't it much easier to trick younger kids into believing in your superstitious nonsense than older boys with access to the internet?
Personally I haven't been a fan of the Boy Scouts since I was asked to leave back in the 70's.
Back then it was more Hitler youth than Children of the Corn, but it was still very oppressive and militaristic.
Perhaps now the Scouts can find new sponsors, who won't make them pray every time they get lost in the woods or ask them to play that secret spanking game that they are not supposed to tell their parents about.
Oh the possibilities are endless.