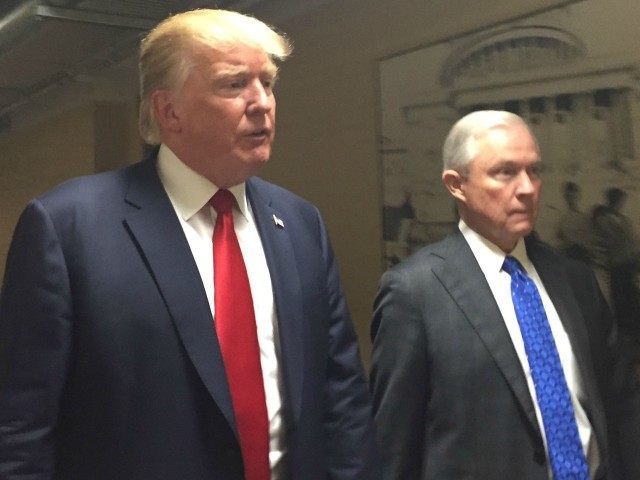 Courtesy of the
New York Times
:
Few Republicans were quicker to embrace President Trump's campaign last year than Jeff Sessions, and his reward was one of the most prestigious jobs in America. But more than four months into his presidency, Mr. Trump has grown sour on Mr. Sessions, now his attorney general, blaming him for various troubles that have plagued the White House.
The discontent was on display on Monday in a series of stark early-morning postings on Twitter in which the president faulted his own Justice Department for its defense of his travel ban on visitors from certain predominantly Muslim countries. Mr. Trump accused Mr. Sessions's department of devising a "politically correct" version of the ban — as if the president had nothing to do with it.
In private, the president's exasperation has been even sharper. He has intermittently fumed for months over Mr. Sessions's decision to recuse himself from the investigation into Russian meddling in last year's election, according to people close to Mr. Trump who insisted on anonymity to describe internal conversations. In Mr. Trump's view, they said, it was that recusal that eventually led to the appointment of a special counsel who took over the investigation.
Check out Spicey's response when he was asked whether Trump still has confidence in Session courtesy of
HuffPo
:
White House press secretary Sean Spicer refused to answer a question on Tuesday about whether President Donald Trump still has confidence in Attorney General Jeff Sessions.
"I don't have a comment on that," Spicer told reporters during his daily briefing, when asked to describe the president's confidence in Sessions. Pressed further, Spicer said, "I have not had that discussion with [Trump], and if I haven't had a discussion about a subject, I tend not to speak about it."
Now you would simply expect the spokesperson to say 'Of course he still has confidence in his Attorney General, what a silly question." But since that was not the response that only lends credibility to the New York Times reporting.
Then late last night
the Washington Post reported this
:
Attorney General Jeff Sessions offered to resign at one point in recent months after his relationship with President Trump grew increasingly tense, according to two people close to the White House.
I have to say that I am looking forward to the inevitable deterioration of Trump's Administration as these investigations move forward.
At some point each member of his cabinet is going to have to assess whether it is better for their career to stick it out the bitter end, or jump ship while the jumping is good.
I wonder just how long Sessions will continue to bail water on this president's behalf.